'Chase Their Bar': Warriors Teammate on Why He's Lucky Playing Alongside Steph Curry and Klay Thompson
Published 02/06/2021, 7:22 AM CST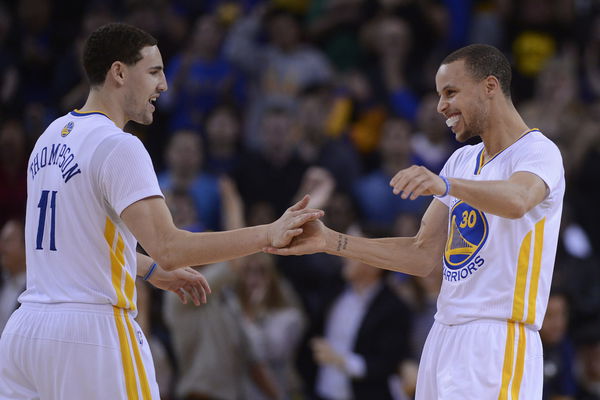 ---
---
The Golden State Warriors have seen the rise of many role players since 2019. A lot of them got a chance when Stephen Curry and Klay Thompson were injured. A solid performance in 2019-20 helped them to stay part of the rotation this season. One of them is 27-year-old Juan Toscano-Anderson.
ADVERTISEMENT
Article continues below this ad
During a recent interview, he spoke about how watching Steph and Klay inspired him a lot. "I've been lucky to be in the gym with Steph and Klay," he said. "Just watching those two guys really shoot the ball and work on their craft, it made me elevate my standards."
ADVERTISEMENT
Article continues below this ad
Anderson also added how his perception of elite shot-making changed after he watched them. "I used to think making 10-15 shots in a row was elite until I saw those guys. I really want to chase their bar," he said. Back in December, the Warriors released practice footage of Curry draining over a hundred threes continuously, which is just another reminder of why he is the best shooter the league has ever seen.
Warriors' Toscano-Anderson takes his chances well
The shooting guard impressed for the Warriors' G-League team and earned his call-up to the main rotation. He shot a decent 46% from the field and 34% from three in the 13 games he played. The Warriors released him in the 2020 off-season but resigned him on a two-way deal just a few days later.
So far in this season, he has improved a lot and has impressed with every chance he has got. He is currently shooting 66% from the field and 53% from three in the nine games he has played. But his most impressive display came against the Mavericks in their last game.
ADVERTISEMENT
Article continues below this ad
The Warriors arrived in Dallas with a depleted team, so Toscano-Anderson was in their starting five. He played a game-high 40 minutes while racking up 14 points, eight rebounds, five assists, and two blocks to complete a brilliant all-round performance. He also shot 75% from the field and 50% from three, as the Warriors battered the Mavericks by 31 points, despite having a roster disadvantage.
If he continues this form, he can be a solid role-player for the Warriors in the seasons to come.
ADVERTISEMENT
Article continues below this ad