Chicago Bulls 2020-21 NBA Schedule: Important Fixtures Involving Hawks, Pelicans and Others
Published 12/07/2020, 12:30 PM EST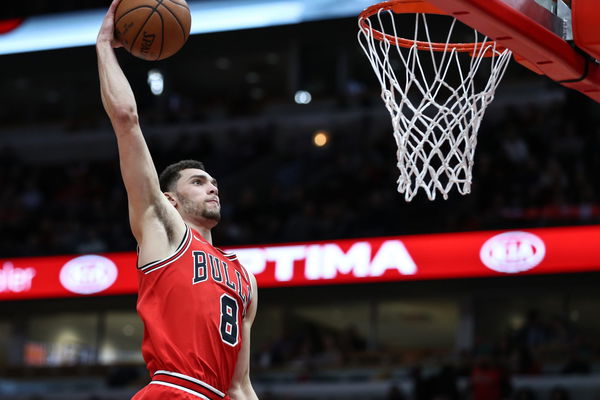 ---
---
After a major front-office overhaul, the 2020-21 season is going to be an exciting one for the Chicago Bulls. They have a young and promising team, who are hungry to make the playoffs for the first time since 2017.
ADVERTISEMENT
Article continues below this ad
The Bulls have launched their partial schedule for the season, with a cool announcement video. They have used their mascot Benny the Bull to reveal their schedule creatively. Their fixtures begin on December 23, in this 72-game season.
ADVERTISEMENT
Article continues below this ad
Exciting Chicago Bulls games to look out for
The Bulls start their season with a clash against another exciting young team, as they host the Atlanta Hawks at the United Center, on December 23 at 7:00 pm EST. It will mark the beginning of a new era under recently appointed coach Billy Donovan. It will also be an exciting debut for rookie Patrick Williams.
January 15 marks an emotional return for coach Donovan, as he goes back to OKC, whom he coached for five years. His young Bulls will take on the Oklahoma City Thunder at the Chesapeake Energy Arena at 7:00 pm EST. It will be a battle of the young and promising shooting guards: Zach LaVine and Shai Gilgeous-Alexander. 
February has two more important games. While the rivalry may have toned down in recent years, the Bulls taking on the New York Knicks is always a game with pride at stake. These two sides will meet twice in a row, on February 1 and February 3, with both home games for the Bulls. Both games are at 7:00 pm EST.
ADVERTISEMENT
Article continues below this ad
Finally, in the last game from this partial schedule, the Bulls play the New Orleans Pelicans. On March 3, they will travel south to play at the Pelicans' Smoothie King Center at 7:00 pm EST. There will be young star attraction on the court, as LaVine, Coby White and Wendell Carter Jr take on Brandon Ingram, Lonzo Ball, and Zion Williamson. 
Watch This Story
ADVERTISEMENT
Article continues below this ad
Bulls' partial schedule for the 2021 season
Dec 11 (7:00 pm EST)

Home

Houston Rockets (Preseason)

Jan 25 (7:00 pm EST)

Home

Boston Celtics

Dec 13 (7:00 pm EST)

Home

Houston Rockets (Preseason)

Jan 27 (7:00 pm EST)

Away

Memphis Grizzlies

Dec 16 (7:00 pm EST)

Away

Oklahoma City Thunder




(Preseason)

Jan 30 (4:00 pm EST)

Home

Portland Trail Blazers

Dec 18 (7:00 pm EST)

Away

Oklahoma City Thunder




(Preseason)

Feb 1 (7:00 pm EST)

Home

New York Knicks

Dec 23 (7:00 pm EST)

Home

Atlanta Hawks

Feb 3 (7:00 pm EST)

Home

New York Knicks

Dec 26 (7:00 pm EST)

Home

Indiana Pacers

Feb 5 (6:00 pm EST)

Away

Orlando Magic

Dec 27 (7:00 pm EST)

Home

Golden State Warriors

Feb 6 (6:00 pm EST)

Away

Orlando Magic

Dec 29 (6:00 pm EST)

Away

Washington Wizards

Feb 8 (7:00 pm EST)

Home

Washington Wizards

Dec 31 (4:00 pm EST)

Away

Washington Wizards

Feb 10 (7:00 pm EST)

Home

New Orleans Pelicans

Jan 1 (7:00 pm EST)

Away

Milwaukee Bucks

Feb 12 (7:00 pm EST)

Home

LA Clippers

Jan 3 (7:00 pm EST)

Home

Dallas Mavericks

Feb 15 (6:00 pm EST)

Away

Indiana Pacers

Jan 5 (9:30 pm EST)

Away

Portland Trail Blazers

Feb 17 (6:00 pm EST)

Away

Charlotte Hornets

Jan 6 (9:00 pm EST)

Away

Sacramento Kings

Feb 19 (6:00 pm EST)

Away

Philadelphia 76ers

Jan 8 (9:00 pm EST)

Away

Los Angeles Lakers

Feb 20 (7:00 pm EST)

Home

Sacramento Kings

Jan 10 (3:00 pm EST)

Away

LA Clippers

Feb 22 (7:00 pm EST)

Away

Houston Rockets

Jan 12 (7:00 pm EST)

Home

Boston Celtics

Feb 24 (7:00 pm EST)

Home

Minnesota Timberwolves

Jan 15 (7:00 pm EST)

Away

Oklahoma City Thunder

Feb 26 (7:00 pm EST)

Home

Phoenix Suns

Jan 17 (2:00 pm EST)

Away

Dallas Mavericks

Feb 28 (5:00 pm EST)

Away

Toronto Raptors

Jan 18 (7:00 pm EST)

Home

Houston Rockets

March 1 (7:00 pm EST)

Home

Denver Nuggets

Jan 22 (6:00 pm EST)

Away

Charlotte Hornets

March 3 (7:00 pm EST)

Away

New Orleans Pelicans

Jan 23 (7:00 pm EST)

Home

Los Angeles Lakers