Chicago Bulls' Zach LaVine Emulates Michael Jordan in an Incredible Scoring Stat
Published 01/03/2021, 10:03 PM EST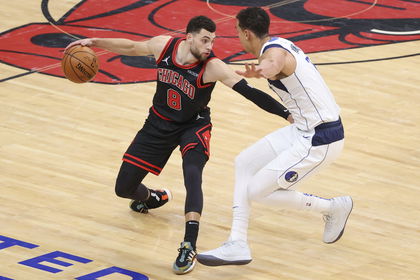 ---
---
The Chicago Bulls have not been the same since Michael Jordan left as they haven't had a scorer of his caliber. However, it looks like star Zach LaVine is trying his best to emulate the six-time champion.
ADVERTISEMENT
Article continues below this ad
Tonight, against the Dallas Mavericks, LaVine had 29 points at half-time. It is the most any Bulls player has scored since Jordan had 30 points in 1997.
After the Bulls took a 30 point loss in their previous game, LaVine looked like he had vendetta on his mind. He was determined to keep them in the game and do his best to win.
ADVERTISEMENT
Article continues below this ad
He shot 12-19 at halftime and was 2-5 from the three-point line. The shooting guard also went to the free-throw line thrice and was perfect. LaVine has shown time and again that he has the potential to be an elite scorer and this display was a testament to that claim.
Zach LaVine carrying the Chicago Bulls offensively, once again
Jordan's 30 point performance came against the Trail Blazers during the 1996-97 season. With Isaiah Rider out, they had Stacey Augmon guarding Jordan.
It was just his fourth start of the season, but Jordan showed no mercy. His half time stats read 12-20 from the field, 2-4 from three, and 6-7 from the charity stripe.
He punished the Blazers' defense from everywhere on the court, and they could not do anything to stop him. But in the second half, his scoring took a halt. He went 2-7 from the field and had just seven points in the second half. Despite that, the Bulls got a convincing 27 point win over the Blazers.
ADVERTISEMENT
Article continues below this ad
LaVine channeled this energy tonight and had 36 points by the third quarter. No other Bulls player had reached double figures.
The other starters were struggling and couldn't shoot above 50% from the field. Rookie Patrick Williams could only manage a 3-8. After a phenomenal display in his previous game, Otto Porter was quiet tonight and shot 2-7. Wendel Carter Jr shot 2-8 while Coby White was 3-7 from the field.
Hence, LaVine was carrying them offensively as he has done on multiple occasions in the past. He has the fighting spirit in him and just refuses to give up even if the rest of the team is not at their best. If the Bulls do not improve as a team, he is likely to leave for a better destination.
ADVERTISEMENT
Article continues below this ad