Chris Bosh Reveals the Team He Hated to Play Against During His Raptors Days
Published 11/21/2020, 9:01 AM EST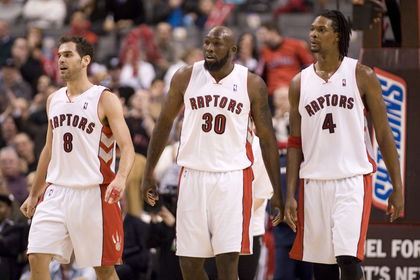 ---
---
Before joining the Miami Heat, the 11-time All-Star Chris Bosh was the star for the Toronto Raptors. From his 3rd season onwards, Bosh was a regular in the All-Star games and was often a walking 20 and 10 guy.
ADVERTISEMENT
Article continues below this ad
But recently he spoke about how there was a team against whom he could never expect to do that. "The team I used to hate playing the most was the Pistons," Bosh said on the All the Smoke podcast.
"Rasheed (Wallace) was with the Pistons… Those were the nights I couldn't sleep. They're gonna be physical, my team needs me to get 25-30 points, I'm probably not gonna get it because they're gonna put a lot of bodies on me.
ADVERTISEMENT
Article continues below this ad
"Defense wasn't as strong back then. That was always the worst thing to hear. During these games, Flip Saunders, he wasn't shy about anything, (he'd say), 'Hey! Turn four.' And there's nothing I can do."
In the 21 games he played against the Pistons during his Raptors days, Bosh averaged 19.3 points, 10.3 rebounds and shot 45% from the field.
The Pistons were one of the best defensive teams during the 2000s, with players like Ben Wallace, Chauncey Billups, and Rasheed Wallace. They were a frustrating team to play against and so Bosh struggled unsurprisingly.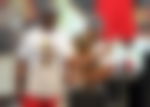 Bosh's transition from Raptors to Heat
With the 4th overall pick, the Raptors drafted Bosh back in 2003. They passed up on Dwyane Wade since they already had Vince Carter. So Bosh fit their system best. They had a solid team with Jalen Rose and Donyell Marshall as well, but they failed to make the Playoffs.
Since they had shooters, Bosh's offensive game was mostly post-dominant. He would squirm through defenses or sometimes just bully his way to the paint. He would also take midrange shots and barely invested in three-point shooting.
But after his move to the Heat in 2010, his floor-stretching ability came to the fore. During his career with the Raptors, Bosh averaged 0.3 three-point attempts per game. But with the Heat, he averaged 1.9 attempts per game.
ADVERTISEMENT
Article continues below this ad
Playing alongside the likes of LeBron James and Dwyane Wade who aren't natural three-point shooters, Bosh evolved his game and became a stretch big.
This shooting came clutch in the Playoffs when he shot 53% and 40% in the seasons when the Heat won the title. Throughout his career, Bosh has been underrated often due to playing behind LeBron and Wade, but he was always a dependable player.
ADVERTISEMENT
Article continues below this ad