Clippers' Paul George Puts Embarrassing Numbers in Clutch Moments Despite Excellent Overall Numbers
Published 03/02/2021, 11:56 PM EST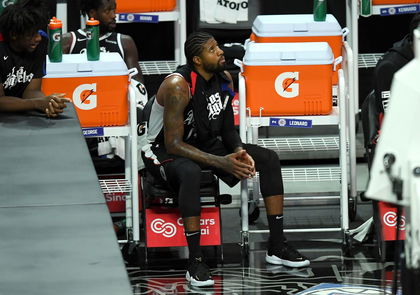 ---
---
The LA Clippers lost their second game in a row tonight against the Boston Celtics. Paul George led them tonight in Kawhi Leonard's absence and was doing everything right until the last quarter.
ADVERTISEMENT
Article continues below this ad
He started the game brilliantly, going 8-12 in the first half, and had 21 out of the Clippers 63 points. In the third quarter, he shot 2-4, but when the team needed him the most in the fourth, he went blank. George shot a miserable 2-10 and had just five points as the Clippers slipped to a five-point loss.
This is now George's second game in a row where his fourth-quarter struggles have cost the team the win. In their last game against the Bucks, George shot 1-9, and the Clippers lost narrowly by five points. These two games have dropped his clutch shooting percentage to an embarrassing 25% for the season.
ADVERTISEMENT
Article continues below this ad
Poor clutch shooting shouldn't hinder a great season for Paul George
Despite tonight's performance, George is averaging 23.4 points, 6.2 rebounds, and 5.4 assists on 50-45-88 shooting splits. Those are some of the best shooting numbers in the league right now. He may have cost them the last two games, but George played a huge hand in the Clippers being close in those games.
He also deserves credit for the Clippers' form, which took them to the #2 spot in the West. They overtook their rivals, the Lakers, and were only behind the Jazz, who have been insane so far.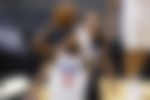 PG may be going through a bad stretch of games right now, but it happens to the best players. Just a couple of seasons ago, George finished third in MVP voting. But he is one of the few players who are targeted only for their lowlights. Damian Lillard's game-winner on him, followed by his poor shooting in the playoffs last season, has made him an easy target for trolls.
But this season, George is quietly putting in the work to overcome these poor displays. Clippers fans will hope he can redeem himself with an improved performance during the playoffs when it matters the most.
ADVERTISEMENT
Article continues below this ad
Can the Clippers avoid a three-game losing streak heading into the All-Star break?
After two losses in a row, all eyes will be on the Clippers as they travel to the capital to face the Wizards. After seven wins in eight games, the Wizards have struggled recently. Similar to the Clippers, they are also aiming to avoid a three-game losing streak.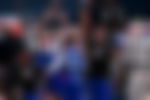 The Clippers will be favorites, but the Wizards have been unpredictable this season, so the Clippers will need to stay on their toes.
ADVERTISEMENT
Article continues below this ad