'Couldn't Find Gloves to Fit Me': Kawhi Leonard Has a Funny Reason for Leaving Toronto Raptors
Published 12/17/2020, 2:03 AM EST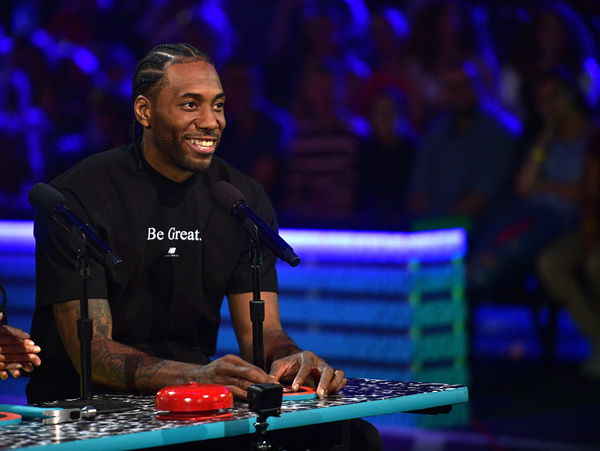 ---
---
LA Clippers star Kawhi Leonard is funny without even trying, and also refers to himself as the "Fun Guy." During his recent appearance on the Jimmy Kimmel show, he was at his best.
ADVERTISEMENT
Article continues below this ad
Kawhi's humongous hands have sparked a lot of discussions, and Kimmel had to ask about it. He asked the two-time Finals MVP whether there were disadvantages to having such huge hands. Leonard replied, "Definitely. I don't notice until I see my friends or someone else doing an activity. I'm like I can't do that. Like putting my hands in my own pockets. Sometimes it's way too small."
Kimmel's follow-up question was if that was the reason he left Toronto since his hands got cold. "I couldn't find gloves to fit me," Leonard laughed.
ADVERTISEMENT
Article continues below this ad
Basketball effects of Kawhi Leonard having huge hands
While Leonard might have a tough time due to those massive 11.25 inches hands, there are some on-court difficulties too. He spoke about this when he made an appearance on Serge Ibaka's "How Hungry Are You?" series.
"It's just kinda difficult shooting sometimes," Leonard said. "It's just difficult. A lot of hard work. You know, sometimes, like, if you shoot a girl's basketball, it's smaller, it's hard to shoot it, hard to roll off your hands. So, some games or some shots that I do shoot it, it'll be too far in my hands, so I have to really focus on that."
But despite those complaints, Leonard is a good shooter and looks like he has overcome those problems with practice. He averages an impressive 37% from three for his career, and almost 40% during the playoffs.
ADVERTISEMENT
Article continues below this ad
His hand size also helps him with passing lane steals, pokes, rebounds, dunks, and of course blocks. His one finger block on Jamal Murray's dunk attempt was one of the biggest highlights of the 2020 Playoffs. While it wasn't enough to help them win the series, it was a huge moment.
Entering the 2020-21 season, Leonard will be hoping to lead the Clippers to a better playoff run this time. They were one of the biggest disappointments of the 2020 playoffs and will aim to finish better.
ADVERTISEMENT
Article continues below this ad