'I'll Choose LeBron': Mark Cuban Gives His Take on the Michael Jordan – Lebron James Debate
Published 12/03/2020, 10:30 AM EST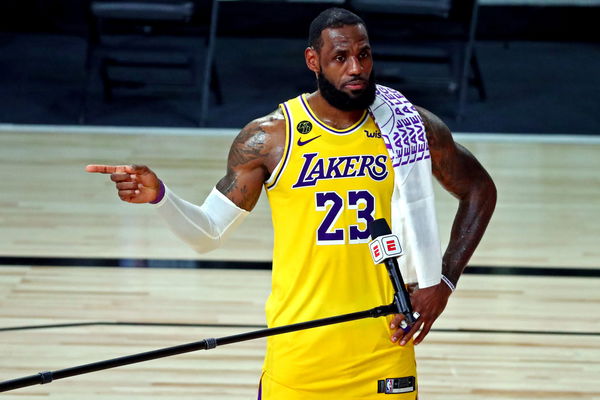 ---
---
The GOAT debate refuses to end, as someone always keeps bringing it up. The latest to fall prey to the "Michael Jordan or LeBron James" question was Dallas Mavericks owner, Mark Cuban.
ADVERTISEMENT
Article continues below this ad
During the Web Summit 2020, Cuban was asked if he'd want LeBron or Jordan. The tech billionaire had a brilliant, but diplomatic answer. He said, "If I want a killer who can make the shot at the end of the game, I want MJ. If I want someone who will make everyone on the team better, I want LeBron." 
Jordan was known for being clutch. His famous game-winners against the Cavs and the Jazz are immortalized in NBA history. On the other hand, LeBron is often called one of the best leaders the game has seen. Many players have praised him for his ability to bring the best out of the team.
ADVERTISEMENT
Article continues below this ad
When he was repeatedly asked to choose a side, Cuban jokingly said, "Well, seeing as MJ's like 60 years old, I'll choose LeBron."
Mark Cuban excited to face LeBron James on Christmas Day
Over the years, Cuban has praised LeBron on many occasions. He famously shut down Skip Bayless on his show, when the analyst was trying to bring down LeBron as usual.
So when the NBA schedule was announced, Cuban was hyped about facing the Mavericks – Lakers matchup on Christmas Day. "It's exciting," he said. "It's a big game playing the champs, and when Luka and LBJ match up, it's always something special. I'm super excited to get back into it."
ADVERTISEMENT
Article continues below this ad
Luka Doncic has often been termed as the next poster boy of the league, once LeBron retires. So a matchup between those two is bound to be special.
Last season, the two teams faced each other four times, with the Lakers winning three of those matchups. Their first matchup was the most intense, with the game going to overtime. Both LeBron and Luka had a triple-double each and were fighting to get their team over the line. LeBron and the Lakers proved too much to handle for Luka and the Mavs in overtime as they lost by nine.
ADVERTISEMENT
Article continues below this ad
This season's encounters will be equally promising. With Luka gaining more experience in the league and becoming mature, it will be a great matchup between him and LeBron.