Damian Lillard Ahead of LeBron James and Others as the Most Clutch Player Since 2012–13
Published 02/08/2021, 11:11 PM EST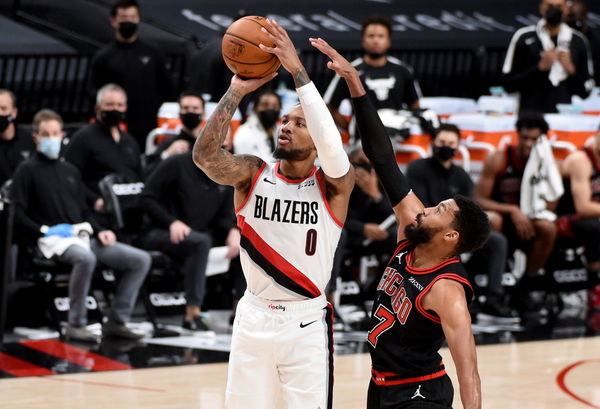 ---
---
The word 'clutch' is thrown around too easily while describing players in today's age. But Portland Trail Blazers star Damian Lillard truly lives up to it. The coining of the phrase 'Dame Time' is the ultimate recognition of his ability in the clutch.
ADVERTISEMENT
Article continues below this ad
One of Lillard's most clutch performance came against the Bulls last month. With just 6.2 seconds left, the Blazers scrambled to recover possession following a jump ball.
They somehow managed to get the ball to Lillard, who took a step back three and sank the shot. It was yet another buzzer-beater to add to his collection, and the Blazers walked away with the win.
ADVERTISEMENT
Article continues below this ad
That shot was another reminder of his clutch-ness, but a new stat proves he has been the most clutch player since he arrived in the league. Lillard has the most game-winning field goals in the last five seconds since 2012/13 with nine. LeBron James, who is also called clutch, is second with eight.
If there were any doubts earlier, it is now crystal clear that stats also prove Lillard is the most clutch player in the league.
Damian Lillard joins elite club with Larry Bird and Michael Jordan
After his game-winner against the Bulls, Lillard joined an exclusive club with Larry Bird, Michael Jordan, and Gilbert Arenas. The Blazers guard became only the fourth player in the NBA to have two 40-point games that included a game-winning buzzer-beater.
His first 40+ point game with a buzzer-beater came against the Thunder during the 2019 playoffs, which will remain an iconic moment forever. Paul George, the unfortunate victim on whom Lillard scored, called it a bad shot, but he could do nothing but watch it sink into the net.
ADVERTISEMENT
Article continues below this ad
That shot against the Thunder also made him the only player alongside Jordan to have won two playoff series via a buzzer-beater, as the first one came against the Rockets in 2014. That shot gave the Blazers their first playoff series win in 14 years. Lillard has been crucial for the Blazers since he entered the league, and he has kept them relevant.
Just 30 now, and hopefully, the league sees a lot more years of Dame Time, before he eventually calls time on his outstanding career.
ADVERTISEMENT
Article continues below this ad