"If You Can't Move This Cat, You Gotta Go": Former Warriors Center Reveals Opens up on Retirement Decision
Published 11/10/2020, 6:30 AM EST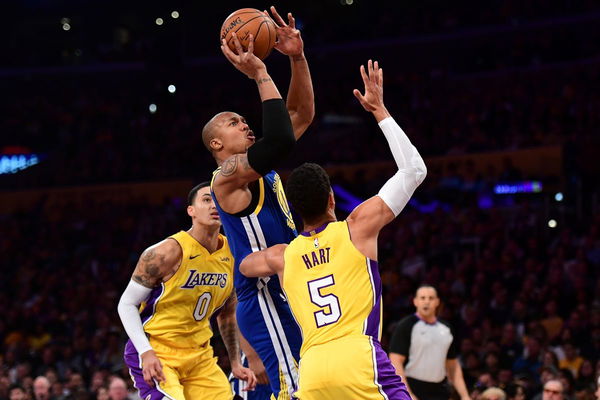 After reaching a certain age, players can often feel retirement creeping up to them. While some can play till 43 like Vince Carter, many others succumb earlier. Former Golden State Warriors forward David West recently spoke about how he realized it was time for him to retire.
ADVERTISEMENT
Article continues below this ad
While speaking to Alex Kennedy from Basketballnews.com. West said there were two incidents that prompted him to retire. He said, "We went in and played against Giannis [Antetokounmpo] and I'm like, 'Yo, you have no business being out here [with Giannis]. It's time, D-West. It's time.' That was really it for me.'"
"I tried to post up Josh Hart a couple times because he got me early. He jumped right up under me; he got up under me early and I couldn't post him up. Literally, during the game, I'm like [telling myself], 'Yo, if you can't move this cat, you gotta go."
ADVERTISEMENT
Article continues below this ad
Despite being four inches taller and almost 35 pounds heavier, West couldn't get the better of Hart in the post. So after the Warriors won the title that season, West hung up his sneakers.
Former Warriors' big man reveals the secret of his longevity
Later, West was asked about the key to his longevity. He simply attributed it to the drive to play.
"Just wanting to do it," he said. "The guys and the ladies who played, they know you've gotta want to do this. You've gotta commit to it. Every day, you've gotta give up other stuff — give up family, give up other things that might divert your attention — and you've really gotta lock-in and do this."
After being drafted in 2003 by the New Orleans Hornets, West played for 15 seasons in the league.
West was a solid big man, who often got out-shadowed by Tim Duncan, Kevin Garnett, and Dirk Nowitzki. His post play was amazing, and he was always one of the most hard-working players on the team. He formed a good duo with Chris Paul on the Hornets, but they weren't able to find much success.
ADVERTISEMENT
Article continues below this ad
Following his move to the Pacers, he elevated them to being one of the best Eastern Conference teams. After four seasons with them, he moved to the Warriors where he finally won his ring. Then, in 2018, he bid adieu to the game at 37, and put the curtains on an impressive yet underrated career.
ADVERTISEMENT
Article continues below this ad