Rival NBA Players Mock New York Knicks for Their Draft Lottery
Published 08/21/2020, 1:23 PM EDT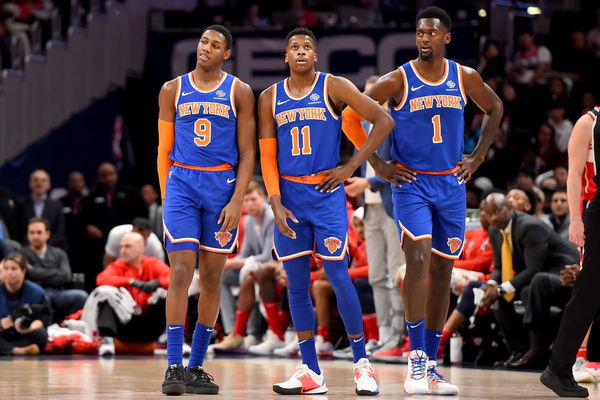 ---
---
For the second year in a row, the New York Knicks have dropped in the draft lottery. After having the sixth-best odds to go number one, the Knicks dropped to the eighth pick. NBA fans on Twitter were not kind to them after this result. Piling on to their misery were Sacramento Kings young star De'Aaron Fox and Boston Celtics big man Enes Kanter.
ADVERTISEMENT
Article continues below this ad
ADVERTISEMENT
Article continues below this ad
After his original tweet, Fox had a series of followup tweets after Knicks fans got annoyed at him. During this barrage of tweets about the Knicks fans, he tweeted a video of him performing a windmill dunk against the Knicks.
New York Knicks run out of luck yet again
Joining in was former player Enes Kanter. After playing for the Knicks for two seasons, he was waived by them in February 2019. He only tweeted a laughing emoji but an emoji is worth a thousand words these days.
Finally, you cannot count our a rival to make fun of your hard times. Brooklyn Nets point guard Spencer Dinwiddie had a series of tweets analyzing what teams could do with their picks.
Pistons, no comment.

Knicks: L. O. L.

— Spencer Dinwiddie (@SDinwiddie_25) August 21, 2020
ADVERTISEMENT
Article continues below this ad
Sadly for the Knicks, draft luck has been unachievable for them for a few years now. In the last four seasons, they have dropped thrice. To make matters worse, only two of their seven draftees since 2017 have shown some promise. The rest have fallen short of expectations miserably.
But with the draft not having a standout number one pick, the Knicks can hope to still draft a solid prospect. With the eighth and the 26th pick (via LA Clippers), the Knicks need to be smart and play their cards well. There are multiple bright prospects up for grabs and they could possibly snag a steal from the Clippers pick.
Hopefully, after their poor draft outings in the past years, they are able to learn from their mistakes and draft a potential franchise player.
ADVERTISEMENT
Article continues below this ad