Young Stars Donovan Mitchell and Jamal Murray Combine For Historic NBA Playoffs Record
Published 09/02/2020, 12:29 AM EDT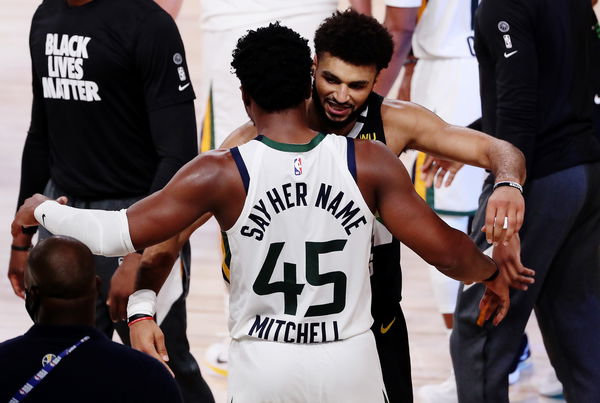 After a brilliantly contested series, the Utah Jazz lost to the Denver Nuggets after seven games. Donovan Mitchell had been outstanding all series for the Jazz, averaging 36.3 points per game while shooting 52% from the three-point line. But in the end, it wasn't enough.
Following the miss by Mike Conley at the buzzer, Mitchell broke down on the court. Before his teammates could lift him up, Nuggets star Jamal Murray came running to console his counterpart.
ADVERTISEMENT
Article continues below this ad
The two young stars have been battling all series and their insane scoring has led to an NBA record. The duo combined for a record 472 points in the series. This is the most points by two opposing players in a series eclipsing the five-decade-old record set by Jerry West and John Havlicek in the 1969 NBA Finals of 463 combined points.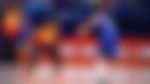 Donovan Mitchell and Jamal Murray: Upcoming superstars
Both of them had a sloppy performance tonight, but it was due to the exhaustion of a Game 7. Both of them have been leading their team every game and it took a toll tonight. Mitchell finished with 22 points while shooting 9/22 and Murray finished with 17 points while shooting 7/21.
The duo also set a record for most threes in a playoff series. While Murray tied the previous record of 32 by Stephen Curry, Mitchell had 33 to set a new record.
Most threes in a series in NBA playoff history:

— StatMuse (@statmuse) September 2, 2020
ADVERTISEMENT
Article continues below this ad
Both of them are still only 23 and have a long way to go. But the promise they have shown already is unbelievable. They're not the best defenders but on the offensive side, they showed they can be world-class.
Murray and the Nuggets have a bigger challenge in front of them now. They face one of the title favorites, the Los Angeles Clippers in the upcoming Conference Semifinals. The Nuggets squad on paper isn't as good as the Clippers and they're also going to be more exhausted following this tiring series. But they have the heart to win it.
ADVERTISEMENT
Article continues below this ad
As for the Jazz, they may be going home now but they will be a serious problem in the upcoming seasons. If they can keep their core and build around Mitchell, they can be one of the best teams in the Western Conference.