When Michael Jordan Trolled His Opponent By Shooting Free Throws With His Eyes Closed
Published 11/23/2020, 5:00 PM EST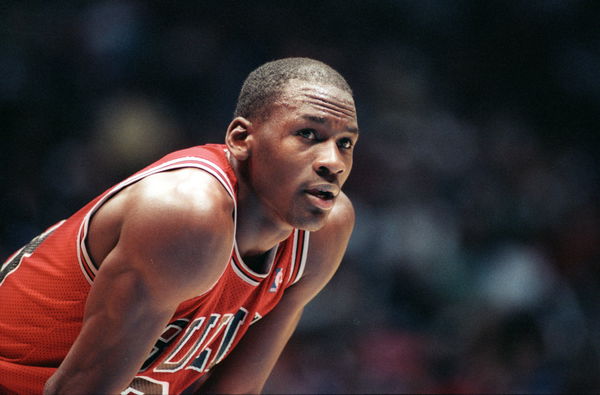 ---
---
There are many on-court moments that proved Michael Jordan to be an all-time great. Winning 6 rings, 5 MVPs and 10 scoring titles are a few of those. But there were also many on-court moments that proved he was one of the best trash talkers too.
ADVERTISEMENT
Article continues below this ad
On 23rd November, 29 years back, Jordan trolled a rookie Dikembe Mutombo in a way only he could. Jordan didn't spare rookies at all and had fun messing around with them.
So during a Bulls vs Nuggets game, Jordan got ready for his second free-throw. He called out to the rookie and said, "Hey Mutombo, this one's for you baby,"  as he sank a free throw with his eyes closed!
ADVERTISEMENT
Article continues below this ad
An 83% free-throw shooter for his career, Jordan's ability to pull off something like that in an actual game is unbelievable. That game was a close encounter, as the Bulls beat the Nuggets by 7 points at the McNichols Sports Arena.
Jordan was at his best, scoring 37 points to lead the Bulls to the win. Mutombo also had a great game, as he scored a team-high 22 points in a valiant effort against the champions.
When Dikembe Mutombo asked to get dunked on by Michael Jordan
Following a 5-season tenure with the Nuggets, Mutombo moved to the Hawks. By this time, he had established himself as one of the best shot blockers in the league. When you entered his paint, you were bound to get swatted away.
During the All-Star game in 1997, Mutombo reminded his Eastern Conference teammate Jordan that he had still not dunked on him; not a single time in the 6 years that the Congolese big man spent in the league.
ADVERTISEMENT
Article continues below this ad
So when Jordan's Bulls faced off against Mutombo's Hawks in the Eastern Conference Semifinals, Jordan did what Mutombo asked him to. He put the 7'2 center on a poster and did the Mutombo finger wag to the big man himself.
Mutombo asked, Jordan delivered. Throughout his career, he has had many dunks, but this was one of the most iconic of them.
Despite being only 6'6, Jordan was not afraid of meeting the biggest of defenders at the rim, and Mutombo bore the brunt of it on that day.
ADVERTISEMENT
Article continues below this ad