Golden State Warriors Star Reveals Why Houston Rockets' Victory Might Hurt Certain Players in NBA
Published 09/05/2020, 11:02 AM EDT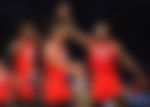 ---
---
The Houston Rockets march on with their small-ball experiment. After they traded away Clint Capela and brought in Robert Covington, critics thought this would never work out. But so far they have been doing well after beating the rather tall-lineup of the Lakers in Game 1.
ADVERTISEMENT
Article continues below this ad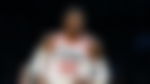 After their win, Golden State Warriors star Draymond Green wrote a thought-provoking tweet about the future of the big man situation in the league. The Warriors season ended early after they didn't qualify for the bubble. But being away from on-court action has brought out the analyst in Green and fans are loving his insightful takes.
ADVERTISEMENT
Article continues below this ad
All big centers not named Joel, KAT, and Joker should be cheering hard for the lakers right now. If Houston take this series it's going to hurt the value of the big man even more.

— Draymond Green (@Money23Green) September 5, 2020
Will the Houston Rockets experiment bring an end to the big man?
The traditional big men in the league are already on the decline, with the rise of three-point shooting. A lot of centers like Nikola Jokic, Karl-Anthony Towns, and Brook Lopez are already mastering the outside shooting skill. If the small-ball experiment works out for the Rockets, this decline will just be worse.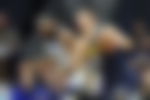 ADVERTISEMENT
Article continues below this ad
Earlier the Rockets didn't mind being outrebounded and just killed the opposition with their perimeter shooting. But in last night's game, they showed that they have the hustle to fight on the glass too. Going up against three seven-footers in Anthony Davis, Dwight Howard, and JaVale McGee, the Rockets still managed to get the same number of rebounds as the Lakers.
The excellent defensive displays of P.J. Tucker and Robert Covington have also been crucial factors of this lineup. Tucker has been a rock in the paint despite going against taller big men while Covington has been a menace from the perimeter to the interior.
Like Jusuf Nurkic pointed out while replying to Draymond, the Warriors started this trend of being able to win with just outside shooting. The Rockets have taken it one step ahead and look to bring about a new revolution in the league.
ADVERTISEMENT
Article continues below this ad