Dwyane Wade Reveals How He Proved to Be on Same Level as LeBron James and Carmelo Anthony
Published 02/17/2021, 2:30 PM EST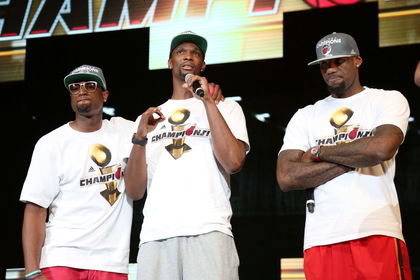 ---
---
When LeBron James, Carmelo Anthony, and Dwyane Wade entered the league in 2003, they came in as friends. But when Wade was drafted fifth, after LeBron and Melo, he knew he had to work extra to earn their respect.
ADVERTISEMENT
Article continues below this ad
During a recent interview, Wade spoke about how that factor drove him. He said, "Being the 5th pick, I needed to show these guys that I'm on their level. I want that respect from these guys. I look up to these individuals for what their basketball talents are. But at the same time, I need to show you what I'm built of."
ADVERTISEMENT
Article continues below this ad
LeBron was the unanimous first pick, and surprisingly, Darko Milicic went second. The Nuggets then picked Melo with the third pick, and Chris Bosh went fourth, right before Wade went fifth. But looking back at their careers now, Wade arguably had the second-best career path ahead of Melo and is regarded as one of the best shooting guards of all-time.
Dwyane Wade talks about how his on-court and off-court relationship with LeBron James was different
Later, he spoke about how he and LeBron were close, right from the time they entered the league. They would go to movies together, visit each other's houses, but when they stepped on the court to face each other, it was all business.
"When those lights came on, what we said to each other was, 'The world is watching. Let's give them something to watch tonight,'" Wade said. "We knew there was a show. So every night we played each other, we tried to give everybody what they tuned in to see."
They are two of the fiercest competitors the game has seen, and that quality brought the best out of them. They faced each other 31 times during their career, and LeBron narrowly comes out on top with 16 wins. One of their best matchups was during the 2005-06 season when LeBron's Cavs took on Wade and the Heat.
ADVERTISEMENT
Article continues below this ad
LeBron finished with 47 points, while Wade answered back with 44. But in the end, LeBron walked away with the win. As Wade rightfully said, they gave the crowd a show every time they stepped on the court, and that game was one of their best ever displays.
Off the court, they are still one of the closest friends, and are an inspiration to young athletes entering the league.
ADVERTISEMENT
Article continues below this ad