End of LeBronto? Worrying Record in Lakers Uniform Proves LeBron James Isn't Raptors' Kryptonite Any More
Published 05/03/2021, 7:00 AM EDT
---
---
The Los Angeles Lakers continued their poor run last night. They lost to fellow strugglers, the Toronto Raptors, who were on a three game losing streak. Despite LeBron James recently returning from injury, the Lakers couldn't manage the win.
ADVERTISEMENT
Article continues below this ad
Following this loss, many fans pointed out how LeBron is yet to win against the Raptors in a Lakers uniform. Since his arrival in 2018-19, he has lost all five of his encounters with them.
LeBron vs the Raptors:

With the Cavs (reg season/playoffs): 40-12

With the Heat: 13-0

With the Lakers: 0-5

— Josh Lewenberg (@JLew1050) May 3, 2021
ADVERTISEMENT
Article continues below this ad
This is a surprising contrast to how LeBron performed against the Raptors prior to his Laker days. Right from his early Cavs days to his second stint in Cleveland, LeBron has always dominated the Raptors. This domination peaked in 2018. The Cavs beat the Raptors in the Eastern Conference Semifinals and swept them.
During that series, LeBron averaged a ridiculous 34 points and 11.3 assists per game. The Raptors had no match for it, and by the end of the series, the city of Toronto was nicknamed LeBronto. That stamped his authority over the whole city.
But since 2018-19, he has gone from a win percentage of 81 against them, to a whopping zero now.
LeBron James' struggles against Raptors while wearing the purple and gold
Before the 2018-19 season, LeBron averaged 27.7 points, 7.7 assists, and 7.1 rebounds per game in 51 games against the Raptors. And since 2018-19, he is averaging only 19.8 points, 7.6 assists and 7.2 rebounds per game in five games.
One obvious reason for this decline is his age. He is now 36 and will turn 37 this year. However, he has done well in this same time period against almost every other team.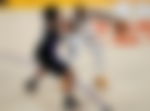 Another reason could be the Raptors stepping up their game against him, especially on defense. Last night they had their best defender, OG Anunoby, guarding LeBron. Since the last couple of seasons, he has done well to keep LeBron at bay. In LeBron's first season as a Laker, he had two-time DPOY Kawhi Leonard guarding him. So this is a key factor in why LeBronto has died down.
ADVERTISEMENT
Article continues below this ad
While he may not face them again this season, Bron will be keen to break this duck against the Raptors next season. He could have possibly done it last night if he was healthier. But he wasn't fully recovered and also had to leave the game in the fourth quarter.
LeBron will aim to not dwell on the loss but move towards recovery and playing harder in their coming games as the Lakers aim to rise above the play-in spots.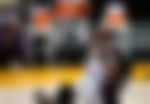 ADVERTISEMENT
Article continues below this ad