'Extra Play, Hustle, Screen': Bucks' Giannis Antetokounmpo Opens up on Playing alongside Jrue Holiday
Published 01/14/2021, 9:00 AM EST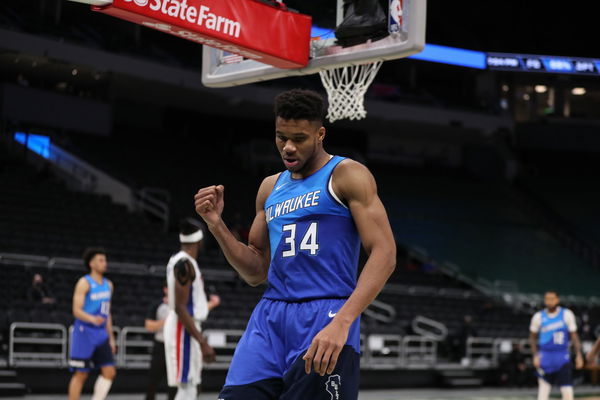 ---
---
The Milwaukee Bucks took a gamble in the off-season when they traded for Jrue Holiday. They were doing their best to prove to Giannis Antetokounmpo about their intentions to contend seriously. And it worked when the Greek Freak signed the extension.
ADVERTISEMENT
Article continues below this ad
Three weeks into the season now, and Giannis is ecstatic about this new acquisition. During a recent press conference, he praised Holiday, not just for his on-court ability, but for his off-court behavior too.
"I knew he was really good," Giannis said. "But every day I play with him, I realize how good a person and teammate he is, and how much better he is than what I thought.
ADVERTISEMENT
Article continues below this ad
"He can be a go-to guy any night of the week, and we want that from him. He's been playing great."
Holiday has had an excellent start to his career with the Bucks. He is averaging 15.2 points, 5 rebounds, and 2.2 steals per game. He is also shooting 49% from the field and 38% from three.
Giannis Antetokounmpo says he doesn't mind going the extra mile for Jrue Holiday
Holiday had already established himself as one of the best two-way players in the league prior to his arrival in Milwaukee. He has also earned praises for being the best defensive guard in the league. But off the court, he has been a huge contributor to society as well, especially with his Jrue and Lauren Holiday fund.
This is one of the reasons why Giannis talked about how important it is to have Holiday in the Bucks organization.
He said, "The most important thing is that when you get to work every day when you come to practice and he's a part of it. He's a good person more than he's a good player. It's fun. You enjoy playing with a guy (like him) and you want to do the extra play, hustle, screen, or whatever for him."
ADVERTISEMENT
Article continues below this ad
Along with Khris Middleton, this trio will be aiming to end the title drought for the Bucks now. They haven't won a title since 1971, and this is the strongest team they have had in recent years. But it is going to be extremely tough for them. They have two huge hurdles in front of them in the Nets and the Lakers, and the Bucks will have to play at their best to beat them.
ADVERTISEMENT
Article continues below this ad