Former Coach Reveals the Completely Different Side of Kawhi Leonard: 'That Dude is a Comedian'
Published 02/02/2021, 12:48 PM EST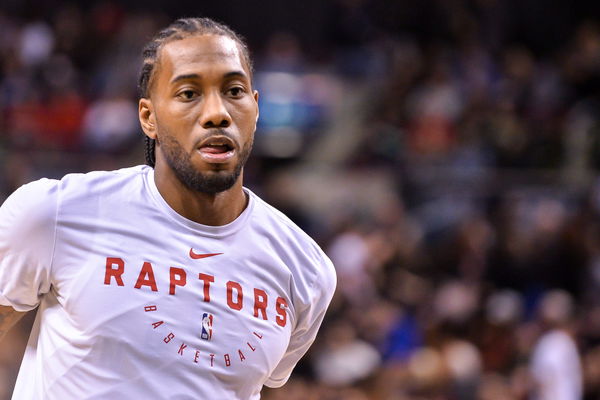 ---
---
When it comes to his ability, LA Clippers star Kawhi Leonard is undoubtedly a superstar. But off the court, he is far from it. He has always preferred to stay away from the limelight and has often been joked about for being a robot. But according to his former coach Phil Handy, Leonard is one of the most fun people to be around.
ADVERTISEMENT
Article continues below this ad
"(Kawhi is) one of the coolest cats I've been around," Handy said during a recent podcast. "But the crazy thing about it is when you get to know him, behind closed doors, that dude is a comedian. People don't get to see that side of him.
"He's just like a normal dude. He isn't enamored with all the fluff; he doesn't have an entourage, he's not on social media, he's not flashy. He's got his boy, Jeremy, who's an assistant coach with the Clippers, he's got his uncle and his family. And he keeps his circle tight. He's one of the dudes who just want to hoop."
ADVERTISEMENT
Article continues below this ad
Kawhi Leonard is all about the work
Handy spent a season at Toronto as the assistant coach when Leonard had just arrived. During the podcast he also mentioned how after his long welcome message to Kawhi, the first thing he asked was when would they get to practice. Leonard also asked Handy to be completely honest with him regarding their training because he would be straightforward as well.
That's how their working relationship began. Handy also mentioned that they trained for a month before the season. That proves his determination and dedication towards the cause. Eventually it all paid off when the Raptors beat the Warriors in the NBA Finals. Leonard won Finals MVP after leading the Raptors to their first ever NBA title.
On this day last year, Kawhi Leonard and the Raptors beat the Warriors for the franchise's first NBA title.

Kawhi was Finals MVP: 28.5 PTS | 9.8 REB | 4.2 AST | 2.0 STL | 1.2 BLK 😤 pic.twitter.com/gPyR9mMigP

— Yahoo Sports (@YahooSports) June 13, 2020
ADVERTISEMENT
Article continues below this ad
This season, he is continuing to put in work with the Clippers. But unlike the previous seasons, he isn't taking games off anymore. He played a back-to-back game this season, his first in years. The Clippers currently hold the number one spot in the West, and Leonard's MVP caliber form has been vital towards that.
He will be aiming to improve from last year, and similar to the Raptors situation, help the Clippers get their first ever ring as well.
ADVERTISEMENT
Article continues below this ad