Former Lakers Star Explains How He Broke Up a Fight Between Kobe Bryant and Master P
Published 04/08/2021, 6:00 AM EDT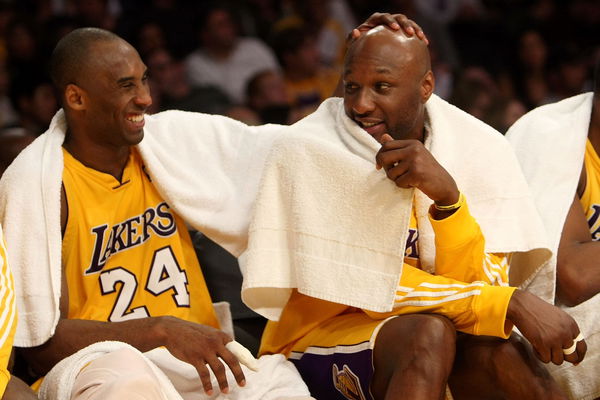 ---
---
The Los Angeles Lakers struggled for a few years after they won the three-peat in the early 2000s. The departure of Shaquille O'Neal was tough to deal with, and Kobe Bryant barely had any help on the team.
ADVERTISEMENT
Article continues below this ad
But in the trade for Shaq, they received Lamar Odom. He would go on to play a key role in their 2009 and 2010 titles. Odom had a close relationship with Kobe and was in shock when he passed away. He has shared many stories about him and Kobe, and in a new one, he revealed how he prevented a fight between Bryant and rapper Master P.
Odom said, "When you're practicing with the Lakers, people might just pop up… P came to our practice and the aura and the energy and timing of it… Bean kinda really just wasn't feeling it. These are two alpha males… It was just awkward… It wasn't like getting in the middle to stop them. But I just checked both of their temperatures, making sure everything is cool… The energy was just off between them."
ADVERTISEMENT
Article continues below this ad
Back in 2018, when Kobe was asked about the same incident, he couldn't recall it; that's how insignificant it was to him.
When Lamar Odom and Kobe Bryant combined for back-to-back titles
After their three-peat, the Lakers had an underwhelming season, going out in the second round. They made it to the Finals in 2004 but unfortunately fell to the Pistons. That loss killed the team, and Shaq left, while Odom came in. It also led to them missing the playoffs in the next season for the first time in a decade.
It was a tough rebuilding job after that for the Lakers, who slowly were returning to their best. They made it to the Finals in 2008 but ended up losing to the Celtics. However, that didn't deter them as they had another excellent campaign next season and returned to the Finals again. The Lakers took a win over Dwight Howard's Orlando Magic, and Kobe won Finals MVP while Odom played a vital role off the bench.
ADVERTISEMENT
Article continues below this ad
Their hunger for success didn't end there as they made it to a third successive Final. They were facing the Celtics once again and had their chance for revenge. After seven highly contested games, the Lakers came out on top this time. Kobe walked away with another Finals MVP and Odom continued to excel in his role.
Despite a slow start to his journey with the Lakers, Odom had a great career overall and ended it with two rings.
ADVERTISEMENT
Article continues below this ad