Former NBA Champion Asserts Hakeem Olajuwon, and Not James Harden, is the Rockets GOAT
Published 01/22/2021, 6:40 AM EST
---
---
After an eight-year association, Houston Rockets bid farewell to James Harden earlier this month. The 2018 MVP joined them via trade in 2012 and was their best player since then. The Rockets brought him in to end their title drought, but he wasn't able to break their winless run.
ADVERTISEMENT
Article continues below this ad
After all these years of failed attempts, Harden decided it was time to move on. He felt that there was no chance of him winning a title at Houston anymore, so he asked for a trade and eventually left for the Nets. Following his departure, fans started discussing whether he was their best player in franchise history.
Some fans may have felt that way, but former NBA champion Vernon Maxwell doesn't agree. He clarified that he likes Harden too, but there is no doubt about who is the best player in Rockets' history. He said that it was two-time champion Hakeem Olajuwon, who is also his former teammate.
ADVERTISEMENT
Article continues below this ad
I like James Harden and I know some of you young bucks were trying to make the argument but this isn't up for discussion. Dream is the H-TOWN goat. Unfollow me if you think otherwise.

— Vernon Maxwell (@VernonMaxwell11) January 21, 2021
Why does James Harden fall behind Hakeem Olajuwon?
During his eight seasons at Houston, Harden established himself as one of the best scorers of his generation. He won three scoring titles and was also among the top candidates for the MVP award, which he won once.
He made the Conference Finals twice and was close to advancing to the NBA Finals in 2018, but Chris Paul's injury killed their chances.
The Rockets got eliminated in a seven-game series against the Warriors, and with that, he lost his best chance at a ring. So although he had enough regular-season success in the playoffs, he often struggled. Thus, he wasn't able to win a ring at Houston.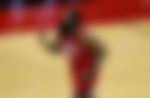 Compared to this, Olajuwon's achievements with the franchise are incomparable. He brought two NBA championships to the city, their first and only titles in franchise history. He beat two of the greatest centers of all-time, Patrick Ewing and Shaquille O'Neal, in back-to-back Finals to win those rings.
ADVERTISEMENT
Article continues below this ad
His triumph in 1995 also gave him a Finals MVP. which made him the only player in NBA history to win MVP, DPOY, and the Finals MVP in the same season. No one has yet achieved this feat.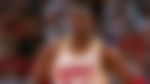 Aside from these achievements, Olajuwon is arguably the most skilled center of all-time. His post moves are second to none, and he also has a move (Dream Shake) named after him.
ADVERTISEMENT
Article continues below this ad
Harden is good, but Olajuwon is far greater. So there shouldn't be any comparison between the two.