Former NBA Champion Explains Why 2012-13 Miami Heat is the Best Team LeBron James Has Been a Part of
Published 02/15/2021, 4:30 PM EST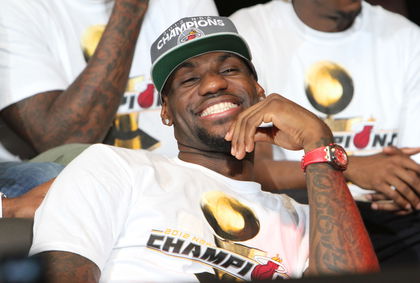 ---
---
The Los Angeles Lakers not only had a title drought before LeBron James joined but a playoff drought too. Within two seasons, he made them a champion and one of the best teams he has been a part of. But is it the best team he has played for?
ADVERTISEMENT
Article continues below this ad
Former NBA champion Paul Pierce disagrees. During his playing days, he faced LeBron in his younger days and was on the wrong end of a lot of results because of LeBron. Speaking out of his experience, he said the 2012-13 Miami Heat was the best team LeBron has been a part of.
He said, "Whatever team that was when they won 28 in a row and the chip. Those types of winning streaks don't even exist no more. The Lakers did it back in the 80s. How do you win 28 games in a row?"
ADVERTISEMENT
Article continues below this ad
Pierce then spoke about what made them so dangerous. He said, "That team was so fast. By the time you got your shot up, you had to be back on defense. Every time I shot the ball, I start running back. That team was so fast with LeBron and Wade on the wing."
Looking back at LeBron James and the Heat's 2013 title run
In the 2012-13 season, the Heat were coming off a title victory. After forming the trio of LeBron, Dwyane Wade, and Chris Bosh, they lost their first Finals in 2011 but got their title a year later.
Coming into the 2012-13 season, they knew they had to repeat. LeBron had predicted that the Heat would win seven championships with this trio, but they were already 1/2 in the first two seasons. With this in mind, they played dominating basketball that season. They finished the regular season with 66 wins and advanced to the playoffs with the best record in the league.
They demolished the Bucks 4-0 in the first round, followed by a gentleman's sweep against the Bulls. Paul George and the Pacers tested them in a seven-game series, but LeBron led them to the win.
ADVERTISEMENT
Article continues below this ad
The NBA Finals was also a gritty seven-game series, which featured Ray Allen's three-pointer to save them in Game 6. It is arguably the most clutch shot of all-time, and LeBron still thanks Allen for it. In Game 7, LeBron showed why he is one of the greatest of all-time and led the Heat with a dominant 37 point performance to bring home their second title in two years.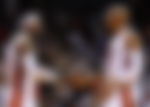 ADVERTISEMENT
Article continues below this ad