Former NBA Champion Has Audacious Claim About Nets' Kevin Durant, James Harden and Kyrie Irving
Published 02/22/2021, 10:24 PM EST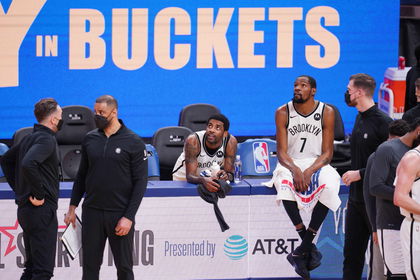 ---
---
The Brooklyn Nets immediately became the title favorites when they brought in James Harden. They formed an offensive juggernaut when they teamed up Kyrie Irving, Kevin Durant, and Harden. They had a slow start as they tried to figure things out, but now the Nets are on a six-game winning streak.
ADVERTISEMENT
Article continues below this ad
Former NBA champion, Matt Barnes, who is impressed by their performance so far, has issued a huge statement about them. He said, "This trio (KD, Kyrie, Harden) might be a better scoring trio than those guys (Steph, Klay, KD) and that's saying a lot. This could be the best scoring trio we've ever seen in the game… They've been the number one offense since James jumped in there."
It may seem an audacious claim to some, but Harden and Durant are already two of the best scorers of all-time. Adding Irving to the mix only makes it better. Barnes also just talked about the scoring aspect, and not about which trio is better overall. That title rests with the Warriors trio for now until the Nets win multiple championships.
ADVERTISEMENT
Article continues below this ad
Barnes talks about what the Brooklyn Nets need to do
After praising their offense, Barnes also praised the Nets' defense, which has been improving lately. He said, "They're starting to understand how the defense is. They hear people talking about how bad their defense is. They see their defensive numbers and they realize defense is nothing more than effort, and energy, and being on the same page."
This improved defense has been key for their wins against the Clippers and the Lakers. But Barnes isn't fully convinced by their roster just yet. He pointed out the need for another big man and suggested names like JaVale McGee and Andre Drummond.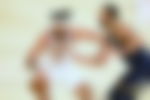 He said that while Durant and Jeff Green can play backup center minutes, they need someone to help on the glass if DeAndre Jordan gets into trouble. Durant and Green are great on offense, but they don't offer similar rim protection and glass-cleaner skills like Jordan.
ADVERTISEMENT
Article continues below this ad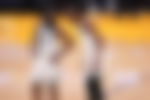 If the Nets can somehow land either of them via a buyout, that could be the final piece of their jigsaw. They would become too dominant to beat in a seven games series and arguably be the number one favorites to win it all.
ADVERTISEMENT
Article continues below this ad