Former NBA Champion Reveals How Kids Only Remember Him for Being Dunked On by LeBron James
Published 02/23/2021, 12:18 AM EST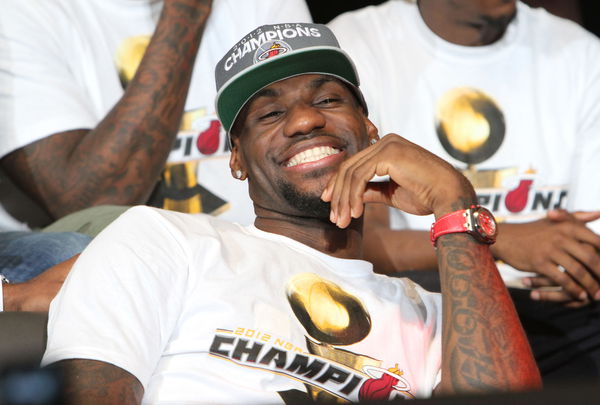 ---
---
The Dallas Mavericks had one of the greatest title runs in 2011 when they won their first-ever championship. They swept Kobe Bryant and the Lakers and ended it by overcoming LeBron James and the Heat.
ADVERTISEMENT
Article continues below this ad
Dirk Nowitzki was the best player on the team, but Jason Terry was arguably their second-best player. Along with being an NBA champion, Terry had an impressive 19-year career where he also won an All-Rookie team award and the 2008-09 Sixth Man of the Year award. He is also infamous for being dunked on by LeBron.
During a recent interview, he revealed how people only remember him for being dunked on, and not his actual achievements. Terry said:
ADVERTISEMENT
Article continues below this ad
"Every camp, every clinic in and around America I go and talk to kids, they don't ask like, 'How did it feel to play 19 years? How did it feel to play with Dirk [Nowitzki] or win a championship?… How did it feel for LeBron to dunk on you like that?' Like, come on, man. Get out of here."
LeBron James waited two years for revenge
During the 2011 NBA Finals, Terry was arguably the second-best player behind Dirk Nowitzki for the Mavs. He hit multiple shots and ultimately embarrassed LeBron. Bron had to wait two years before he could finally get his revenge when Terry joined the Celtics.
When the Heat faced the Celtics in March 2013, LeBron had an incredibly disrespectful dunk against Terry, before staring him down and walking away. That was arguably the best dunk of LeBron's career, and unfortunately for Terry, it became a career-defining moment.
ADVERTISEMENT
Article continues below this ad
Later, LeBron spoke about how he loved the fact that the dunk came against Terry. "I've had a chance to [review] it, and it was one of my better ones," James said back in 2013. "The fact that it happened to J.T. made it that much sweeter. Because we all know J.T. and he talks too much sometimes. And I'm glad it happened to him."
Sadly, LeBron didn't get a chance to face Terry and the Celtics in the playoffs that season, as the Celtics fell in the first round to the Knicks. Had they met in the Conference Finals, it would have been an exciting matchup.
ADVERTISEMENT
Article continues below this ad