Former NBA Champion Reveals Why LeBron James Could 'Care Less' About his Rivalry with Giannis Antetokounmpo
Published 01/23/2021, 6:30 AM EST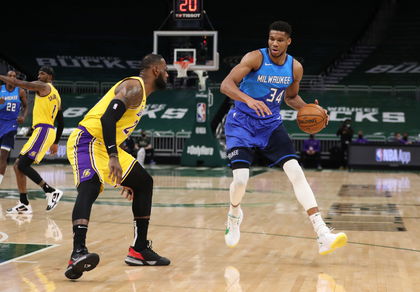 ---
---
The Los Angeles Lakers' win over the Milwaukee Bucks extended their unbeaten away run to eight games. The purple and gold won in convincing fashion, as LeBron James led the team with a brilliant 34 point performance.
ADVERTISEMENT
Article continues below this ad
During the post-game interview, LBJ was asked if there was any 'satisfaction' in beating two-time MVP Giannis Antetokounmpo. But LeBron just brushed it off and said, "I can care less about that. I try to play well and help our team win against any team."
Furthermore, former NBA champion Matt Barnes explained why LeBron said this during a recent episode of ESPN's The Jump:
ADVERTISEMENT
Article continues below this ad
He said, "LeBron is here for one thing and that's championships. Individual matchups are more for younger players chasing that throne. When Bron was coming out chasing Kobe, that was a big deal whether he admits or not. But LeBron is here for one reason. He can care less about who he's playing. The goal is to win, continue to improve, and be healthy for the Finals."
LeBron James: Never ending race to chase greatness
One of the reasons why LeBron is an all-time great is because he always wants to keep improving. He has always been one of the most hard-working players, and his four rings can attest to that. Bron is always placing the team first, and this mentality is what helped the Lakers win the title last season.
When the team needed Anthony Davis to step up, LeBron helped him, fed him the right passes, and got the best out of him. But whenever the team needed him to perform, LeBron always led from the front.
ADVERTISEMENT
Article continues below this ad
His goal has always been championships, and that is why this so-called rivalry against Giannis doesn't matter to him. He will now be focused on their game tonight against the Bulls, as the Lakers aim to make it 9-0 on the road.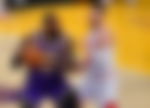 The Lakers played the Bulls earlier this season, but struggled to contain their explosive offense. They managed to edge them out by two points in the end, but LeBron and the Lakers will be hoping for a more convincing win tonight.
ADVERTISEMENT
Article continues below this ad