Former NBA Coach Believes Michael Jordan Could Never Compliment Colleagues As LeBron James Does
Published 04/27/2021, 5:30 PM EDT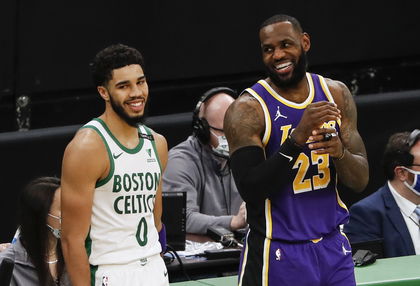 ---
---
Los Angeles Lakers star LeBron James is a living legend. Despite being the best player in the world, he has never been shy to shower praise on his colleagues.
ADVERTISEMENT
Article continues below this ad
A couple of weeks ago, Mavericks star Luka Doncic hit a ridiculous game winner against the Grizzlies. It was a one-of-a-kind three pointer layup. As soon as he saw it, LeBron tweeted about it and praised Doncic for it.
ADVERTISEMENT
Article continues below this ad
According to former NBA coach Jeff Van Gundy, Michael Jordan would have never done something similar. During a recent podcast, Van Gundy spoke about how LeBron and MJ are different in this aspect.
He said, "LeBron James is much more congenial. He tweets to everybody after they make a good shot in a game. He's just different from Jordan. Sometimes we marginalize his competitiveness because he's so kind. Jordan, even if he lived in today's era, he wohttps://therookiewire.usatoday.com/2021/03/19/lakers-lebron-james-reaction-lamelo-ball-matchup/uldn't be tweeting, 'Hey good shot Luka.'"
While many former players like Jordan may call this behavior soft, it is mere appreciation. But Van Gundy believes Jordan's mentality was such that even if he was from this era, he wouldn't make similar tweets. That is one big difference between him and LeBron.
How LeBron James appreciating someone leads to tampering accusations
As he did with Doncic, LeBron is very open to appreciating his colleagues. While other players only do it if put on the spot, LeBron doesn't need an occasion. But every such tweet has similar replies from trolls. Because of his Miami Heat team up in 2010, everything LeBron says about other players is termed as tampering.
Last month, when the Lakers faced the Hornets, it was a memorable battle between the present: LeBron vs the future: LaMelo Ball. James was impressed by Ball's performance and so he praised him later. But trolls turned the honest compliment into rumors that he wants to team up with Ball.
ADVERTISEMENT
Article continues below this ad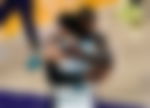 Similarly, when LeBron praised Steph Curry following their long-awaited All-Star team up, it created multiple rumors about a team up. There were analysts discussing whether he is recruiting Curry who is a free agent next year. It was a ridiculous chain of events that were triggered because of a simple compliment.
While some people may continue to criticize him, the players receiving the praise would be elated to get plaudits from LeBron himself. That is what is more important.
ADVERTISEMENT
Article continues below this ad