Former Teammate Reveals Dirk Nowitzki Hated Miami Heat and LeBron James
Published 01/01/2021, 1:59 AM EST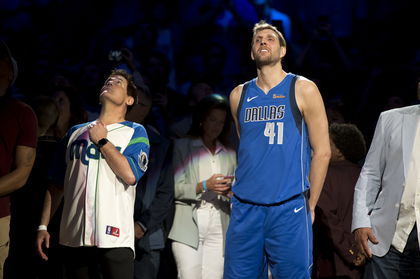 ---
---
The Dallas Mavericks had one of the most iconic runs in the 2011 Playoffs. After sweeping Kobe Bryant's Lakers, the Mavs, led by Dirk Nowitzki, beat the Miami Heat 4-2 to win their first ring in franchise history.
ADVERTISEMENT
Article continues below this ad
Recently JJ Barea, a member of that Mavs team, talked about how Dirk was determined to overcome the Heat. "He was not going to let us lose," Barea said. "The way he prepared the whole year for it… He hated Miami, he hated LeBron, Wade, Bosh. He's never going to say that, but he couldn't stand it.
"He got ready for it. He doesn't talk much, he leads by example. That year, in timeouts, before the games, at halftime, he would talk loud, he would point fingers. He was special, he had a different mindset that year. He was tougher, he was driving the ball more for some reason."
ADVERTISEMENT
Article continues below this ad
Nowitzki channeled that 'hate' into motivation and led the Mavericks from the front. He averaged 26 points and 9.7 rebounds in that series. Nobody was more determined than Dirk in that series, and after six games, he got his result.
Revenge for the Dallas Mavericks over the Miami Heat
In the 2006 NBA Finals, the Heat won their first-ever NBA title by beating the Mavericks. It was a clinical performance from Dwyane Wade, who won the Finals MVP after averaging 34.7 points, 7.8 rebounds, and 2.7 steals per game. He was unstoppable in that series, and the Mavericks had no answer for him.
ADVERTISEMENT
Article continues below this ad
That was their first meeting in the playoffs, and the Heat took home the title with a 4-2 victory. So Dirk and the Mavs were waiting to get their revenge. It took them five years to do it, but when they got the opportunity in 2011, they seized it. Despite having the older and weaker team, the Mavericks won because they played with more heart.
Following that series, Dirk had the final missing piece in his trophy cabinet. He already had an MVP award from 2007, but the ring solidified his status as one of the best players of his generation.
ADVERTISEMENT
Article continues below this ad
Since the departure of most of the players involved, this rivalry has now cooled down. It is still an exciting matchup due to the players involved, but there is no animosity like it was previously.