Former Raptors Star Reveals How Kobe Bryant Channeled His Mamba Mentality Through His 81-Point Performance
Published 01/23/2021, 2:30 PM EST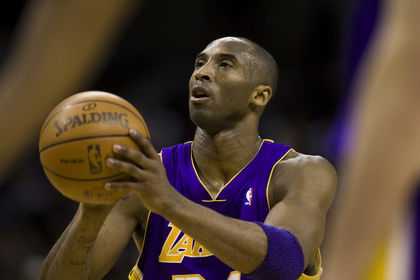 ---
---
Last night was the 15th anniversary of Los Angeles Lakers legend Kobe Bryant scoring 81 points on the Toronto Raptors. It was a display of unparalleled scoring, leadership, and greatness.
ADVERTISEMENT
Article continues below this ad
Recently, Jalen Rose, who was part of that Raptors team, revealed few details of the Kobe massacre, which proves how Kobe lived by what he preached.
He said, "When people show that game, they show Kobe walking to the bench putting one finger in the air. Or they show him making a three over me. Or they show him getting a steal and double pump putting behind his head dunking on the breakaway. But the most important thing that he did that day, he never talked trash, and he never made it about him. That's the Mamba Mentality.
ADVERTISEMENT
Article continues below this ad
"To me it's an honor, to be a footnote, bug on the windshield, or bump in the road, or whatever you want to call me for the legacy of Kobe Bryant. Because any tribute that the world has for him, number 8, number 24, statues, he definitely deserves it."
Kobe Bryant: Not just a scoring machine
Rose has been heavily trolled for that game since then, but he has embraced it now. At the start of the video, he also praises Kobe for his discipline. Rose says that Kobe could have had 100 if he wanted. So when people joked about how he let Kobe have such a game, he is happy they were able to restrict him to 81.
That game proved that Kobe was one of the best scorers the game has ever seen. But he was a lot more than just a scorer. He is a 12-time All-Defensive team member, nine of which are First Team honors. He was one of the most relentless and the most aggressive defenders.
ADVERTISEMENT
Article continues below this ad
His scoring was exceptional, but so was his defense. One of Kobe's most iconic defensive highlights is where he locked up Dwyane Wade. He started with a full-court press and successfully made him use up the shot clock, which resulted in a turnover.
This two-way excellence is what made Kobe one of the greatest to play the game.
ADVERTISEMENT
Article continues below this ad