"Hottest Player in the League": Lakers Head Coach Raves About Jamal Murray Ahead of Conference Finals Matchup
Published 09/16/2020, 11:54 PM EDT
---
---
The Western Conference Finals will tip-off tomorrow night in the Orlando Bubble. Just as expected, the Los Angeles Lakers are in the round, but surprisingly, their opponents are the Denver Nuggets. Led by Jamal Murray and Nikola Jokic, who have had multiple record-breaking performances, the Nuggets have worked hard to reach this stage.
ADVERTISEMENT
Article continues below this ad
Ahead of their matchup, Lakers coach Frank Vogel praised Murray for his form in the Playoffs so far.
He said, "It's really remarkable what he's been able to do during this playoff run. Losing Will Barton in the rotation and Gary Harris being hurt for a while led to Jamal being a lot more aggressive offensively. With that, he was able to put up some crazy numbers and get into a great rhythm."
ADVERTISEMENT
Article continues below this ad
Vogel compares Jamal Murray to Damian Lillard and James Harden
Later, Vogel pointed out how the Lakers have been running into the most in-form players repeatedly.
"Seems like we're getting the hottest player in the league in just about every playoff series. Damian Lillard, James Harden, and now it's Jamal Murray. He and Joker are playing at an extremely high level. We gotta make sure we stick to the things that are working for us in the first couple of rounds, on defense, and try to apply it to this series."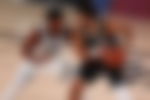 Throughout the playoffs, Murray has been exceptional. In the series against the Jazz, he broke multiple records and also broke Jazz fans' hearts as he eliminated them through a sensational comeback.
ADVERTISEMENT
Article continues below this ad
In the series against the Clippers, Jokic was consistent throughout, but he couldn't do it alone. Murray had three games where he had lesser than 20 points, and the Nuggets lost each one. But when he stepped up and scored more than 20, the Nuggets won all four games. He signed off that series with a 40 point game and left the Clippers dazed with that performance.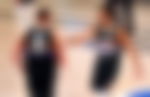 This is going to be his toughest opposition so far. The Lakers have been a strong defensive unit who successively neutralized both Lillard and Harden. Murray will have to pull out something unexpected for the Lakers as he attempts to take the Nuggets to their first-ever NBA Finals.
ADVERTISEMENT
Article continues below this ad