Frank Vogel Describes How LeBron James Has Combined Michael Jordan and Kobe Bryant's Fadeaway with Modern Skills
Published 01/26/2021, 5:00 AM EST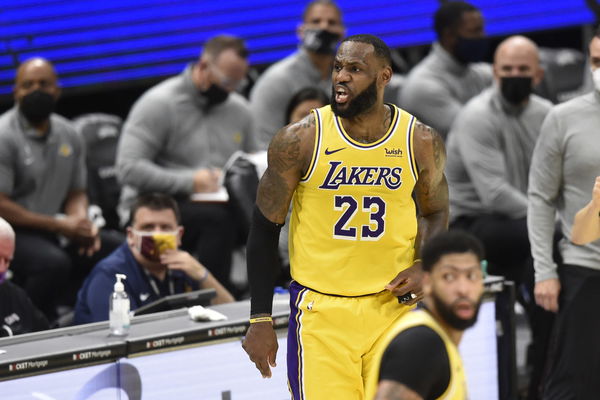 ---
---
The Los Angeles Lakers beat the Cleveland Cavaliers, thanks to a LeBron James demolition job. He had 46 points, the most he has had in a Lakers shirt, against a helpless Cavs defense.
ADVERTISEMENT
Article continues below this ad
One of the highlights of his performance was his exceptional shooting. He turned into a complete sharpshooter, going 7-11 from the three-point line. This is only the sixth time in his career LeBron has made seven threes and it was his former team who suffered last night.
This sharpshooting ability, along with his post-moves skill set, has left Lakers coach Frank Vogel in awe. "Guys like MJ and Kobe went to the fadeaway out of the post a lot towards the later part of their careers," he said, during the post game interview. "He's doing that as well, but he's also bringing that ability to beat teams from deep in the modern NBA."
ADVERTISEMENT
Article continues below this ad
LeBron James at his dominant best
ADVERTISEMENT
Article continues below this ad
During the interview, Vogel also praised LeBron for his outrageous shooting. "The shot-making was just ridiculous. One of those nights for the ages for him," he said. Vogel also empathized with opposition teams who have to bear the brunt of LeBron's incredible shooting. He said, "If I'm playing against him, I'm not really sure how I'm trying to slow him down"
Teammate Anthony Davis wasn't at his best, shooting just 5-16 from the field. But LeBron's performance covered up for his shortcomings. Talking about what the team does when LeBron goes off like this, he had a quick response. "We get out the way," he said.
This was one of the most dominant performances from LeBron for the Lakers. He shot 19-26 from the field at a ridiculous 73% from the field. He was completely unguardable, and the Lakers just relied on him to help them get the win. Except for him, only Markieff Morris and Montrezl Harrell shot over 50% from the field. The rest had a hard time.
ADVERTISEMENT
Article continues below this ad
In the fourth quarter, LeBron outscored the Cavs himself. He had 21 points while the whole Cavs team managed just 19, as the Lakers won by seven, after being down by two at the start of the quarter. This will be a good boost for them, as they face the 76ers in their next game on Wednesday.