"I Was Mad As Sh**": Raptors' Guard Reveals He Was Hurt When DeMar DeRozan Was Traded For Kawhi Leonard
Published 11/12/2020, 8:02 AM EST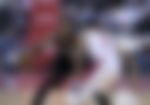 ---
---
In 2019, the Toronto Raptors made history when they became the first team based outside the USA to win the title. But it was a bittersweet victory for them. All these years they tried with DeMar DeRozan and were unsuccessful. However, they ended up winning it the year he got traded.
ADVERTISEMENT
Article continues below this ad
After spending almost a decade in Toronto, the Raptors traded DeRozan to the Spurs in 2018 for Kawhi Leonard. It left many players upset, including guard Fred VanVleet, who recently spoke about this incident.
"I was mad as shit. I was hot. DeMar has grown into a really close friend of mine," he said, during his appearance on the JJ Redick podcast. "So, I was hurt."
ADVERTISEMENT
Article continues below this ad
Fred VanVleet talks about how the team mindset was when the trade happened
VanVleet later spoke about how things transpired. He said that the team, including DeMar, was locked in for the upcoming season, and were ready to go all the way.
He said, "Nick had just got the job. So we always have these team dinners and stuff. DeMar had gotten All-NBA Second Team. Nick was challenging him like we're going to make DeMar play defense this year and he's going to become a better three-point shooter and we're gonna run it back. And you know, when next year LeBron left, we're good. So that's the mindset going into it."
"We were more than good enough to go to the Finals that year, we just couldn't get past LeBron. We were close, had the benchmark, had all those guys and then boom, just like that, not only DeMar (but also) Jakob Poeltl (also got traded)."
So not only did the Raptors trade his close friend but also his bench unit partner, Jakob Poeltl, leaving him very upset.
High risk, high reward for the Raptors
The Raptors brought in Kawhi Leonard with the trade, but VanVleet says he didn't want to be here.
"All we kept seeing was Kawhi don't want to come," he said. "That was the only thing after that: He doesn't want to go to Toronto. Man, we traded for this guy, he doesn't even want to be here. So then when he got there, it took a little time to integrate them and it worked out for us."
ADVERTISEMENT
Article continues below this ad
Leonard played only 60 regular-season games because of load management. But in the playoffs, he played every game and averaged almost 40 minutes per game. DeRozan was good, but not this good. Leonard played defense, shot threes, and was excellent on both ends. In the end, he took them to the promised land, and the gamble paid off for the Raptors.
ADVERTISEMENT
Article continues below this ad