'Free Steph': Fans Exclaim Stephen Curry Deserves Better After Lakers Thrash Warriors
Published 03/16/2021, 1:47 AM EDT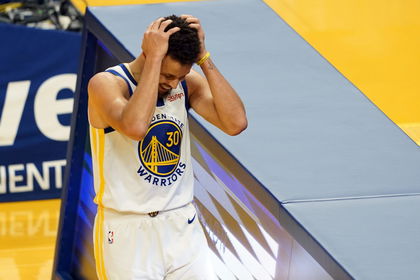 ---
---
The Golden State Warriors lost their 20th game of the season tonight. The Lakers beat them 127-98 in what was an embarrassing loss for the Warriors. Despite star Stephen Curry trying his best, the Warriors slumped to their fifth loss in six games. This prompted a lot of Twitter fans to go berserk.
ADVERTISEMENT
Article continues below this ad
As soon as the final buzzer went off, the 'Free Steph' tweets started pouring in. There were similar tweets a few days ago as well, but this loss made a lot of fans upset. Along with the fans, former NBA champion Kendrick Perkins joined in on this wave as well.
🗣FREE STEPH CURRY!!!

— Kendrick Perkins (@KendrickPerkins) March 16, 2021
ADVERTISEMENT
Article continues below this ad
bro free steph man the warriors sorry as fuck

— 💜💛LAKESHOW ZIGG💜💛 (@ziggziah) March 16, 2021
someone free Steph i beg 😫😫😫

— Caped Baldy (@WhyAlwaysMo) March 16, 2021
Free Steph Curry. He deserves better

— iasha (@iashaonline) March 16, 2021
Golden State is such a miserable franchise. They're ruining Steph's prime years. Free Steph!

— Josiah Ray (@Josiah_Ray) March 16, 2021
Stephen Curry tries his best, but the team does not reciprocate
Throughout the season, Curry has been doing his best for the team. His MVP form is what keeps them alive in most games. But tonight that wasn't enough. Curry scored 27 points tonight, shooting 9-17 from the field and 4-7 from three. Andrew Wiggins and Kelly Oubre Jr had a passive performance and neither shot more than nine times.
But the Warriors' biggest problem was their defense. They allowed the Lakers to shoot 62% from the field, which is a disastrous number. Since the start of the season, their defensive shortcomings have played a big part in their losses. Tonight was another reminder that the Dubs need to improve on this front or risk falling out of playoff contention.
The Warriors' current record is 20-20 and they are the ninth seed in the Western Conference. While they may get a spot in the play-in tournament, it is unlikely they will qualify because of their multiple weaknesses.
Will Curry really leave the Warriors?
ADVERTISEMENT
Article continues below this ad
With a $43 million contract, Curry is currently the highest-paid player in the league. He has one more year left on his contract, and then he can enter the 2022 Free Agency. Because of the Warriors' lackluster performance, fans are already insisting he leaves them when he gets that chance.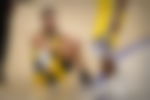 But along with his playing ability, Curry's loyalty is one of his well-known traits. He is the only player in the league to still play on the team that drafted him at least 10 years ago. While fans may give up on the team, Curry refuses to do that. When Klay Thompson returns next season, the Splash Brothers will be eager to do their best and silence these fans.
ADVERTISEMENT
Article continues below this ad