From WNBA to NBA: Looking at the Journey of San Antonio Spurs Assistant Coach Becky Hammon
Published 01/06/2021, 1:00 PM EST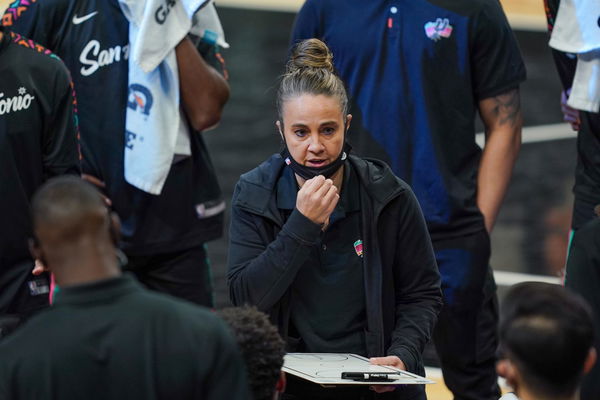 ---
---
On December 30, 2020, Becky Hammon became a part of NBA history. Following Gregg Popovich's ejection, she stepped in, becoming the first female acting head coach in NBA history. She has been an assistant with the San Antonio Spurs since 2014 and was the first full-time female assistant coach.
ADVERTISEMENT
Article continues below this ad
Hammon started her journey as a point guard in the WNBA in 1999. During her playing days, she was one of the best players in the league. She is a two-time All-WNBA First Team member, a one-time All-WNBA Second Team member, and also made six All-Star appearances. She also finished as the assists leader during the 2006-07 season.
Not only did she play in the WNBA, but also for leagues across Europe in Russia and Spain. During her stint in the WNBA, she played for two teams, the New York Liberty and the San Antonio Stars, which was her first connection with the franchise. She retired in 2014, ending a successful 15-year playing career.
ADVERTISEMENT
Article continues below this ad
From San Antonio Stars to San Antonio Spurs
ADVERTISEMENT
Article continues below this ad
Hammon was roped in as an assistant by Popovich in 2014 after she had expressed a desire to join coaching. A year later, she was handed over the reins of their Summer League team, becoming the first female head coach in summer league history. She made the best out of this opportunity and led her team to the title.
Wherever she goes, whatever she does, Hammon ensures it is always historic. Following that Summer League victory, later that season, she became the first woman to serve on an All-Star Game coaching staff.
Since then, she has been one of the most vocal members of the Spurs coaching staff. But many are surprised that she hasn't got her own team yet. Hammon came close to joining the Bucks as a GM, but the deal fell through. Despite this, she has continued to work hard and has continued to build a solid resume.
ADVERTISEMENT
Article continues below this ad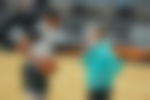 Following the Lakers game, Spurs' Dejounte Murray spoke about how he believes Hammon is on the right track and will soon get her deserved spot as a head coach. He said, "She is definitely on the right road, and I think everyone here appreciates her. She is setting an example for every woman out there."