Giannis Antetokounmpo Is Having a Dominant Playoff Run Like Shaquille O'Neal. So Why Are Fans Still Complaining About His Shooting?
Published 06/28/2021, 2:02 PM EDT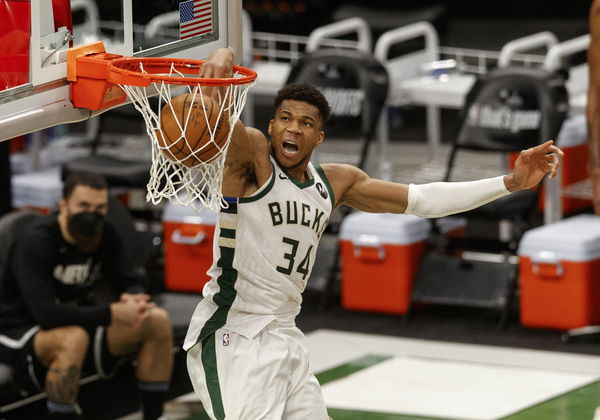 ---
---
The Milwaukee Bucks are two wins away from their first NBA Finals appearance since 1974. After making their only two Finals appearances in the early 70s, the Bucks were never able to reach that stage again. And many had written them off, until the rise of their Greek Freak, Giannis Antetokounmpo.
ADVERTISEMENT
Article continues below this ad
After two MVP seasons without postseason success, Giannis is now having a historic playoff run. He has faced a lot of criticism for not being able to perform int he playoffs previously. But this year, he is doing his best to shut his critics up.
Last night, Giannis had his ninth 30-10 game of the postseason. That is the most by any player since Shaquille O'Neal had 13 back in the 2000 NBA Playoffs. Currently, Giannis is averaging 29.2 points, 13 rebounds and 5.4 assists per game in the 2021 playoffs. In the 2000 NBA Playoffs, Shaq averaged 30.7 points, 15.4 rebounds and 3.1 assists per game.
ADVERTISEMENT
Article continues below this ad
Giannis Antetokounmpo has his 9th 30-point, 10-rebound game of the postseason, the most in a single postseason since Shaquille O'Neal in 2000 (13). pic.twitter.com/ZISoMDwTiA

— ESPN Stats & Info (@ESPNStatsInfo) June 28, 2021
Those are very identical numbers. And one of those players is called the most dominant player of all-time. While the other is targeted for his lack of shooting and his long free throw routine.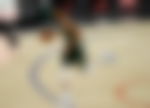 Giannis' free throws sometimes exceed 10 seconds, however no referees ever stop him. So that has left many fans annoyed. Despite not being the best shooter, Giannis doesn't pass up on open threes. But his poor conversion rate is irking former players like Charles Barkley. Instead of appreciating his will to overcome his weakness, they are only criticizing him more.
But fortunately, Giannis does not care. He is just trying to improve. As long as it does not cost them any games, Bucks fans will also be happy with him trying to get better.
Giannis Antetokounmpo is putting up Shaq numbers; now can he get a ring like Shaq?
ADVERTISEMENT
Article continues below this ad
When Shaq put up those numbers during the 2000 playoffs, the Lakers went on to win the ring. Shaq won Finals MVP deservedly, as he led the Lakers who also had a young Kobe Bryant as their #2. In Khris Middleton, Giannis has his Kobe, albeit not as talented. But Middleton is showing signs he is made for the big games, after leading them to a win over Hawks in Game 3 of the ECF.
Giannis is in good form, is averaging crazy numbers, has a reliable second option, and he also has a player like Jrue Holiday. Now all he needs to do is stay consistent, and help the Bucks win just six more games. This is going to be the easiest path to a ring he could ever get, so now this is his ring to lose.
WATCH STORY HERE – LeBron James vs Kevin Durant Duel in the 2017 NBA Finals
ADVERTISEMENT
Article continues below this ad