Giannis Antetokounmpo Warns Bucks Legend Michael Redd He Will Break His Record
Published 04/23/2021, 2:00 AM EDT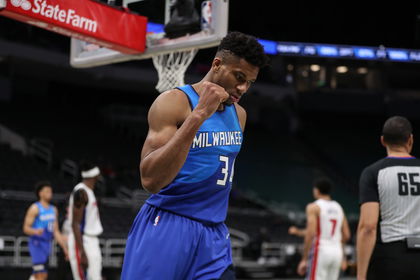 ---
---
The Milwaukee Bucks may not have had any success in almost half a century, but they have had a few all time greats. Kareem Abdul Jabbar, Giannis Antetokounmpo, and Ray Allen are some of the best to don a Bucks jersey.
ADVERTISEMENT
Article continues below this ad
However, none of them hold the record for the most points in a single game by a Bucks player. One-time All-Star Michael Redd set that record back in 2006.
Although he was a prolific scorer for the Bucks, he is a forgotten man these days. Tonight, he showed up after the Bucks game to congratulate Giannis on their win against the 76ers.
ADVERTISEMENT
Article continues below this ad
After embracing Redd in the tunnel, Giannis told him he was coming for his record. He said, "One day I'm going to break your record. It might take a few years."
Redd joked that he got lucky when he set the record. So Giannis replied, "Hopefully I can get lucky one night too. Nice to see you."
Redd's 57 point effort came in a grueling encounter with the Jazz in the 2006-07 season. He played 46 out of a possible 48 minutes and went 18-32 from the field.
Only one other player had double digit shot attempts. It was a Redd-iculous game from him, but sadly, they fell short by two points. Despite the loss, Redd entered Bucks history on that night.
Can Giannis Antetokounmpo break Michael Redd's record?
Despite making the All-Star game just once, Redd was one of the elite scorers in the 2000s. He had two 25+ points per game seasons and still failed to make the All-Star game.
He was also one of the better three-point shooters in the league, despite his unconventional jumpshot. While other fans might not give him his due credit, Bucks fans know how good he was in his prime.
ADVERTISEMENT
Article continues below this ad
Although Giannis isn't a talented scorer like Redd, he has the ability to dominate games in a way that he can easily drop 40 points when he is at his best. Earlier this month, he had a 47 point outing where he casually went 18-21 from the field. When he does that, there is no defense who can stop him.
That level of dominance is why many believe he can surpass Redd's record soon. His current career high is 52 points, but a 60 point game is likely on the corner.
ADVERTISEMENT
Article continues below this ad