Warriors' Coach Reveals Interesting Tidbits of Stephen Curry's Practice With James Wiseman
Published 12/21/2020, 1:45 PM EST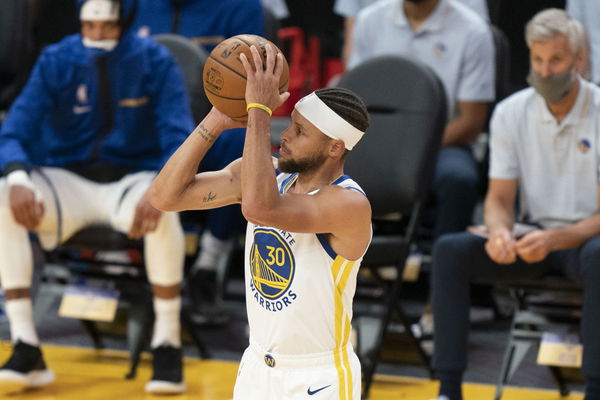 ---
---
The Golden State Warriors addressed their rim protector problem by drafting James Wiseman. The Memphis alumnus comes in with the responsibility of taking over the big man department.Over the years, the Warriors' big men, especially Draymond Green, have been vital in the pick and roll for Stephen Curry.
ADVERTISEMENT
Article continues below this ad
Following Green's injury during the scrimmage game, Coach Steve Kerr said that Wiseman got his chance. "Today was the first scrimmage he had with the whole team," Kerr said. "He scrimmaged with Steph. He was with Steph, Kelly, Andrew, and Eric Paschal, with Draymond being out. I wanted him to get as much of a look with those guys as possible."
"Because obviously playing with Steph is pretty unique with Draymond out, I wanted to have him get a feel for playing a little pick and roll with Steph and get that experience right away."
ADVERTISEMENT
Article continues below this ad
Can James Wiseman be a pick and roll weapon along with Stephen Curry?
The Warriors' offense involves a lot of pick and roll action. So Kerr knows it's best for him to get a hang of it immediately. Wiseman is a better athlete than any big man the Warriors have had in recent years. Despite being a seven-footer, he is agile and quick. So running the pick and roll with him will be much more effective.
During his college career, Wiseman was a pure inside scorer. But now during his Warriors practices, he has been working on his outside scoring too. If he can develop a jump shot, it makes him deadlier for the pick and roll. So when he gets an open look on the roll, he will be able to bury the shot.
ADVERTISEMENT
Article continues below this ad
Kerr also mentioned that Wiseman will not start games immediately. As he slowly settles in and gets acclimated, he will get his chance. Once he gets into his groove, the Warriors will be a very dangerous team with him on the court.
The number two overall pick, Wiseman, is second favorite to win the Rookie of the Year, according to a survey involving NBA GMs. Playing alongside Curry will get the best out of him and give him an excellent chance at winning the award.
ADVERTISEMENT
Article continues below this ad