Warriors' Draymond Green Reveals How Klay Thompson Held Him Accountable After Ejection Against Hornets
Published 03/22/2021, 11:49 PM EDT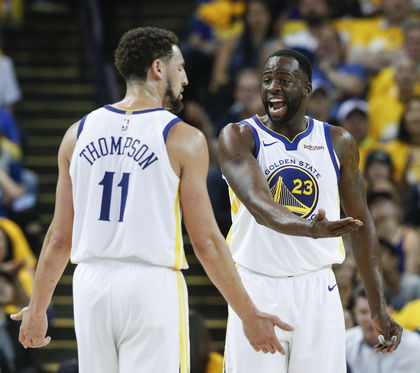 ---
---
The Golden State Warriors had a dynasty just a few years ago. Five straight NBA Finals and three championships are a reminder of how dominant they were from 2015 to 2019. The trio of Stephen Curry, Klay Thompson, and Draymond Green formed a solid bond because of this run, not just as teammates but also as brothers.
ADVERTISEMENT
Article continues below this ad
During a recent interview, Draymond spoke about how he and Klay always hold each other accountable and how that is a reason behind their success. He said, "I still get into Klay and that's something that'll never change."
After a loss against the Orlando Magic, Draymond and the team came into the locker annoyed. But in contrast, Klay was there, just listening to music and bobbing his head. Draymond got annoyed at him and asked him to step up as a leader. Klay was furious but said little.
ADVERTISEMENT
Article continues below this ad
Warriors' Klay Thompson stepped up as the leader in the next game
After their loss against the Magic, the Warriors were facing the Hornets. During that game, Draymond got ejected, and the Warriors ended up losing a close game. So this time, Thompson had a few words to say to Draymond after the game. According to Draymond, Klay said, That was BS. You gotta be better than that. You let the team down, you let the guys down. These guys played really hard to win that game. You let the guys down. That's not acceptable."
Had it not been for Draymond's ejection, the Warriors would have definitely won the game.
This is the kind of relationship they share after playing together throughout their careers. "I definitely still hold him accountable, but that's a two-way street," Draymond said. "You don't win three championships and go to five straight finals…if you can't hold each other accountable."
Although they haven't played together since the 2019 NBA Finals, Klay and Draymond are still helping each other get better off-court. Klay is likely to return only by next season, but he has joined the gym already. In a recent video, Klay was shooting threes in an open gym with former teammate Zaza Pachulia.
ADVERTISEMENT
Article continues below this ad
There is no guarantee how strong Thompson will be when he returns, but NBA fans are eager to see him back on the court. He can help the Warriors return to being a contending team next season and help them to rebuild their dynasty.
ADVERTISEMENT
Article continues below this ad