'Worth the Price of Admission': Hall of Famer Rick Barry Explains Why He Loves Watching Stephen Curry Play
Published 03/18/2021, 11:22 PM EDT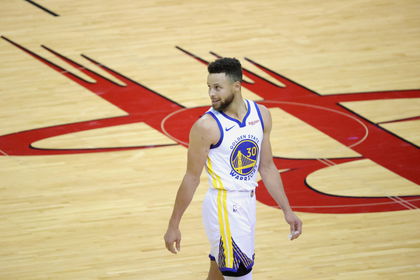 ---
---
The Golden State Warriors are currently at the ninth position in the Western Conference. Multiple players have stepped up so far, but the MVP-worthy campaign of Stephen Curry has been crucial for their success. After coming back from an injury-filled 2019-20 season, Curry is doing his best to entertain the Warriors fans with his game while also helping them fight for the playoffs.
ADVERTISEMENT
Article continues below this ad
Hall of Famer and Warriors legend Rick Barry recently explained why he loves watching Curry play.
He said, "I want him on my team because he has a natural feel for the game that you can never, ever teach a player. That's an incredible, intuitive basketball player. That's the kind of stuff I love to see. I love Steph Curry; I love to watch him play. He's one of those players that is worth the price of admission."
ADVERTISEMENT
Article continues below this ad
Son of former NBA player Dell Curry, Steph picked up the game early. That could be one reason why he has a "natural feel for the game," as Barry mentions. He showed promise right from college, where he was a showstopper for the Davidson Wildcats. And now, he has successfully converted all the hype from college into a superb career in the NBA.
Can Stephen Curry help the Warriors qualify for the playoffs?
The Warriors had the worst possible news in their last game. Curry lost his balance after taking a shot and landed awkwardly. He had a tailbone contusion and was out for the rest of the game. However, the Warriors still won since they already had a big lead, but the upcoming games will be tough without him.
ADVERTISEMENT
Article continues below this ad
They face the Grizzlies twice in their next games. Although the Grizzlies aren't a top team, the Warriors will struggle without Curry. The Warriors haven't announced a timeline for Curry's return yet, but it is likely he could miss a couple of weeks.
Curry will hope that the Warriors don't sink without him. Or else, he'll be forced to go into overdrive mode to carry them to safety again. With the NBA's new play-in tournament format, the Warriors have a shot at making the playoffs even as the ninth or 10th seed. They have an easier schedule for the second half of the season, and fans will hope the team capitalizes on that.
ADVERTISEMENT
Article continues below this ad