The Oklahoma City Thunder pulled off an upset to win against the Los Angeles Lakers. The gritty Thunder team kept the number one seed in check throughout the game, not allowing them to get in their groove and won the game 105-86. Big games call for big players, and veteran Chris Paul answered the call. He led the game in scoring and was the leader for the OKC Thunder as always.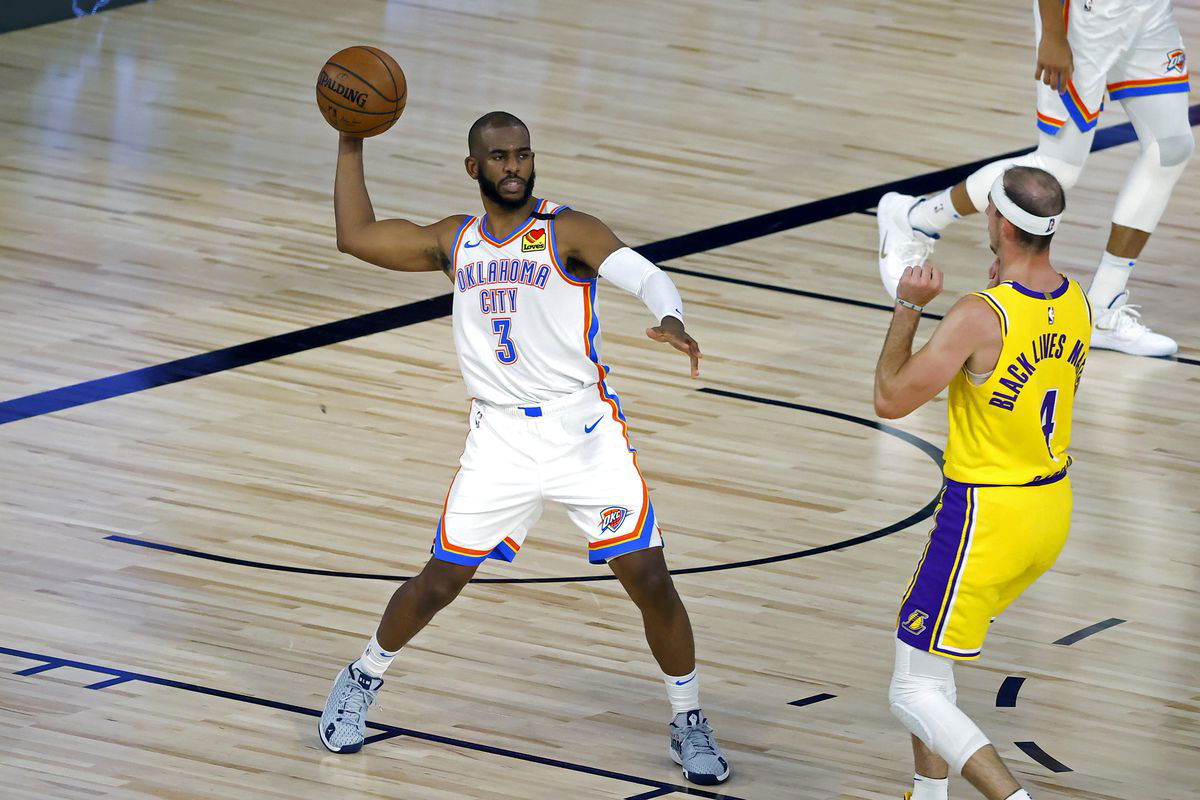 Following the birth of his son, Thunder's Dennis Schroder had to leave the bubble. They were also missing Terrance Ferguson, who was out with a leg contusion. Despite this, they were able to get the win. The Thunder were also helped by the Lakers continued run of poor shooting nights, which saw them go 5/37 from beyond the arc, at a miserable 13.5%.
Oklahoma City Thunder: Proving critics wrong
The Thunder were given a 0.2 chance to make the playoffs by ESPN. During the post-game interview, Paul repeated multiple times, "Nobody expected us to be here. 0.2%," to remind the critics of how wrong they were.
One of the biggest positives for the Thunder was undrafted rookie Luguentz Dort's defense on LeBron James. He was a pest throughout the game and didn't allow LeBron to get comfortable. Their defense overall was so good that it was the first time in the whole season that the Lakers were unable to have the lead even once. It was the fewest points the Thunder have allowed to the Lakers since 2016.
Hold your ground.
Defense ➡️ Offense. @luguentz | @CP3 | #ThunderUp pic.twitter.com/6fpUsYKuxP

— OKC THUNDER (@okcthunder) August 6, 2020

The Thunder also had an underwhelming shooting night, as they went 5-24 from the three-point line. But they were clinical with their free throws. They went to the line 36 times and converted 32, at an amazing 88.9% percent. All five of their starters scored in double digits. Despite giving away five turnovers, CP3 was still the best player on the court, putting up 21 points, seven rebounds, and six assists while going 66.7% from the field.
21p | 66.7% FG | 7r | 6a | Midrange Magic

Chris Paul with the @OGandE Power Play of the Game. pic.twitter.com/eP77OAZBJR

— OKC THUNDER (@okcthunder) August 6, 2020
Since Thanksgiving, the Thunder have had the second-best record in the league. They have had a 36-14 record since then, with only the Bucks above them.
The Thunder are now 3-1 in the bubble and they face the Grizzlies and the Wizards next, who are yet to win a game. Billy Donovan's men ascended into the fourth seed after this win and will be hoping to win and cement this position.
Sources:
Schroder Leaves the Bubble, Ferguson Out
ESPN Stats and Info on Twitter