'Heard a Lot of Knicks Fans': James Harden Describes His First Taste of the Knicks-Nets Rivalry
Published 03/16/2021, 12:44 AM EDT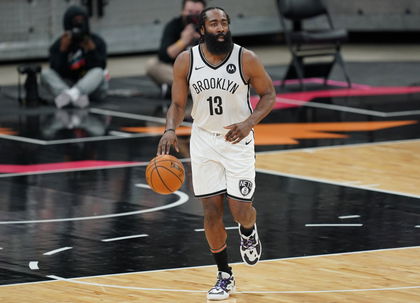 ---
---
The NBA's COVID-19 protocols prevent teams from filling out their arenas. But despite these restrictions, the Brooklyn Nets vs New York Knicks rivalry continued tonight at the Barclays Center with a small set of fans. It was also the first taste of this rivalry for Nets' new arrival, James Harden.
ADVERTISEMENT
Article continues below this ad
Eager to impress the home crowd, Harden put on a clinic. He finished with a triple-double, notching 21 points, 15 rebounds, and 15 assists. His efforts helped the Nets to overcome their rivals by five points in an intense game.
During the post-game interview, Harden spoke about his first experience of the rivalry and also about how loud the Knicks fans are.
ADVERTISEMENT
Article continues below this ad
He said, "I got a little taste of it tonight. New York fans, especially Knicks fans, you can hear them. I don't know how many fans we have here in the building total, but you heard a lot of Knicks fans. We understand the tradition. But I'm just happy to be part of the tradition and rivalry and the Nets team."
"You heard a lot of Knick fans"

In James Harden's first taste of the Knicks-Nets rivalry, he said he heard a lot of Knicks fans at Barclays Center pic.twitter.com/o4TSr2VWUM

— Knicks Videos (@sny_knicks) March 16, 2021
No Kevin Durant? No problem for James Harden and Kyrie Irving
Since the start of the season, Kevin Durant has missed over 20 games. He has now been out of action for their last 12 games, but James Harden and Kyrie Irving seem to have no problem. In this period, they have lost just one game, which is a minor bump for them. That loss came against the Mavericks, and it didn't stop the Nets from going on a new five-game winning streak after that.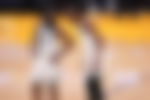 The Nets have a 15-6 record in Durant's absence, and two of those losses came before Harden arrived. If the Nets can play like the best team in the league without their best player, they will be a nightmare to face once Durant returns.
ADVERTISEMENT
Article continues below this ad
Did the Nets get lucky tonight?
With just seconds left to go, the Knicks had the ball. They were down three points and they entrusted the ball to their star, Julius Randle. As he attempted a three-pointer, Irving touched the ball while trying to contest. Randle came down and tried to attempt another shot, but was given a travel instead. It should have been a jump ball, but the referees denied the Knicks.
So the Nets squeezed out a win and could consider themselves lucky, but at the end of the buzzer, they left the arena with the bragging rights.
ADVERTISEMENT
Article continues below this ad