'Hell of a Player': Jimmy Butler Hypes Up Heat vs Bucks Matchup After Giannis Antetokounmpo's Resigning
Published 12/17/2020, 6:00 AM CST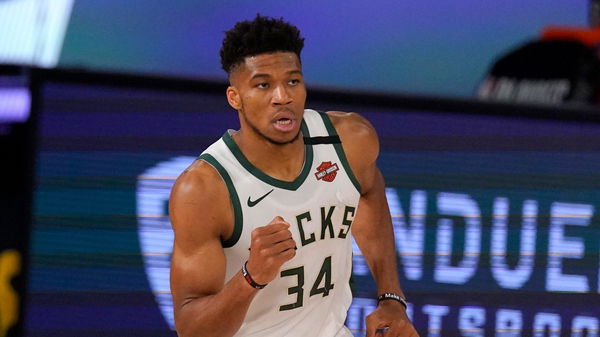 ---
---
After a lot of speculation, Giannis Antetokounmpo has put pen to paper with his contract extension. He is ready to stay in Milwaukee and has signed a five-year, $228 million supermax extension. After back-to-back playoff failures, he wants to lead them to a title.
ADVERTISEMENT
Article continues below this ad
Last season, Giannis and the Bucks were stopped by Jimmy Butler's Heat. It was an easy win for the Heat, who advanced after beating the Bucks 4-1 in the Conference Semifinals. But despite their win, Butler has a lot of respect for the Greek Freak.
"I know he's a hell of a player," Butler said in a recent interview. "He wants to be great.
ADVERTISEMENT
Article continues below this ad
"He's done a phenomenal job at it. They've got a good core group around him. It's going to be interesting and fun to watch, but even more fun to go to battle against those guys. So can't wait for the Heat vs the Bucks matchup."
Will Giannis Antetokounmpo lead his team to a better playoff run?
The Bucks haven't won the title since 1971, when Kareem Abdul-Jabbar led the Bucks to the championship in his sophomore season. Kareem also took them to another Finals appearance, but they fell to the Celtics. Since then, the Bucks have never gone beyond the Conference Finals.
Giannis' MVP form gave hope to the Bucks fans that this could be the end of their barren playoff runs. But so far he has struggled in the playoffs. In back-to-back seasons, they have dominated the league, finishing as the best team. However, in the playoffs, they are unable to replicate the same performances.
This led to the Bucks management fearing Giannis would leave, and they gambled with the big trade for Jrue Holiday. It has now paid off since Giannis has signed the extension, but now they have to focus on the bigger goal: winning the title.
ADVERTISEMENT
Article continues below this ad
The Bucks have a strong lineup, but their bench falls weak compared to the other contenders. The Heat, Raptors, 76ers, and Celtics have a deeper roster. This is where Giannis has to prove to be the difference and lead them to the Finals. He has got his personal accolades already, and now it is time to bring home the title.
ADVERTISEMENT
Article continues below this ad