'He's The Alpha': Nets Fans Desperate for James Harden to Return Following Another Loss in His Absence
Published 05/07/2021, 1:17 AM EDT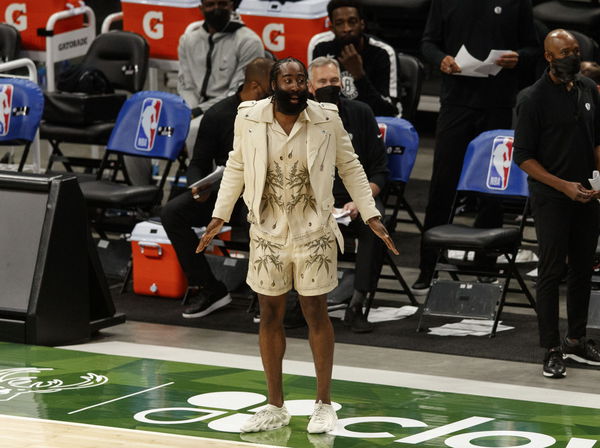 ---
---
The Brooklyn Nets lost their fourth game in a row tonight. Aside from the L, the common factor in all of these games was the absence of James Harden. Once again, the Nets proved tonight that he is their most important player and not Kevin Durant or Kyrie Irving.
ADVERTISEMENT
Article continues below this ad
They lost to the Mavericks tonight in a close encounter. The worst part about their defeat was that they lost despite Luka Doncic struggling.
Durant and Irving couldn't rescue the Nets, and fans were unhappy. They voiced their opinions on Twitter regarding how the Nets desperately need Harden back if they are to return to winning ways.
ADVERTISEMENT
Article continues below this ad
The Brooklyn Nets most valuable player by far

I hope people realize how impactful James Harden really is to winning basketball now pic.twitter.com/rIWaMBZCkM

— arian (@arxanii) May 7, 2021
4 straight Ls… The Nets better hope Harden is completely healthy because they need him

— LegendOfWinning (@LegendOfWinning) May 7, 2021
James Harden the best on this team it's clear

— Dre🐍 (@Sir_Waveyyy) May 7, 2021
The Nets need James Harden. He's the alpha

— Big Cat (@BarstoolBigCat) May 7, 2021
.450% without James Harden
.794% with James Harden

In the words of Kanye West, "no one man should have all that power!"

— Da Kid Gowie (@DaKidGowie) May 7, 2021
Harden's ability to elevate role players production is something that should be praised more

— Jack (@kyriegoatving) May 7, 2021
Tonight's loss was the Nets' 11th loss without Harden. They have played 20 games without him this season and have been able to win only nine of them.
That is an embarrassing record for a championship contending team, but it also speaks volumes about the greatness of Harden.
In contrast to that, the Nets are 4-2 when Harden has led them in the absence of Durant and Irving. While that may be surprising for many, Nets fans have seen how Harden has lifted the team this season.
His ability to get the best out of role players is a crucial part of their wins. And his leadership is a key aspect for which he hardly gets any credit.
Good news for Nets fans, James Harden will return soon
Earlier today, Harden revealed through ESPN that he will be back in action soon. He is aiming to return before the playoffs, as that will help him stay in top shape for the post season.
"The plan is to hopefully get an opportunity to play a couple games before the postseason," Harden said. "We're just taking one day at a time."
Harden would have returned in April but a setback in training delayed his return. And he refused to take any risks with playoffs approaching so he chose to sit out and heal completely before returning.
ADVERTISEMENT
Article continues below this ad
"We wanted to be patient," Harden said. "As much as I love to hoop, I want to be out there, but you've got to be smart. And for me, it was just, 'Let's knock this thing out, let's get this thing healthy so we can make a push.'"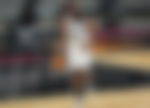 The Nets now have five games left before entering the playoffs. If Harden is able to play at least two games, that will help not only him but also the team as they will be boosted by his return.
ADVERTISEMENT
Article continues below this ad