James Harden Continues His Poor Scoring Streak; Longest Since His Thunder Days
Published 01/13/2021, 1:15 AM EST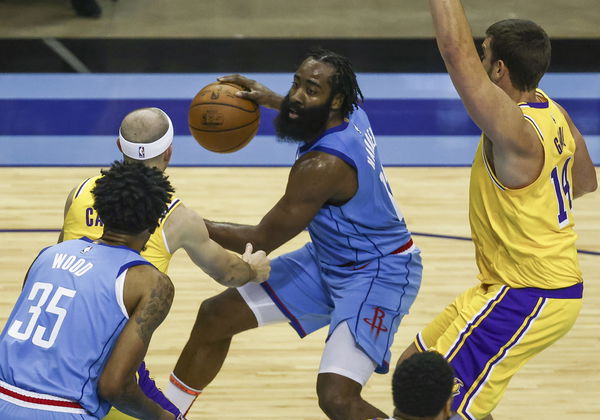 ---
---
The Houston Rockets franchise is once again back in a huge mess. They are coming off back-to-back losses against the Lakers, and star James Harden has failed to step up. This is not only because of his bad form, but also his eagerness to leave, something that the organization has tried to ignore.
ADVERTISEMENT
Article continues below this ad
This bad run of games has seen him go four games with less than 20 points scored. This is the longest poor scoring streak he has had since 2011-12 when he was in his final season with the OKC Thunder. Tonight, he barely looked interested. He shot 5-16 from the field, including 1-6 from the three-point line. He finished the game with a statline of 16 points, seven rebounds, and six assists.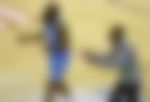 The Rockets know Harden can do much better, but at this point, he is being forced to play. That is the main reason behind his poor output.
ADVERTISEMENT
Article continues below this ad
James Harden reiterates his desire to leave
If the game wasn't shocking enough, the post-game interview definitely was. "I love this city," Harden said. "I've literally done everything I can. This situation is crazy. It's something I don't think can be fixed. Thanks."
And with that statement, Harden walked away from the podium. One could say it was dramatic, but it looks like Harden feels he is a hostage at Houston now.
While this could be a goodbye from his end, will the Rockets actually let him go? Their demands were deemed too high for other teams, which is why negotiations never finalized in the off-season. But the Rockets aren't wrong in demanding the most they can for an MVP caliber player who can carry a franchise.
ADVERTISEMENT
Article continues below this ad
The number of teams who could actually trade for Harden is few. So there is a chance the Rockets might end up lowering their demands in order to let him go. But one shouldn't be surprised if he is forced to stay at least till the end of the season.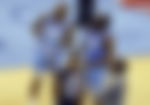 The Rockets now play back-to-back games against the Spurs, and fans will be wondering if Harden is allowed to sit out. It is unlikely he wants to play again, so it will be interesting to see how they deal with the situation.
ADVERTISEMENT
Article continues below this ad