How Will the Boston Celtics Cope Amid Rumors of Enes Kanter's Departure?
Published 10/13/2020, 6:00 AM EDT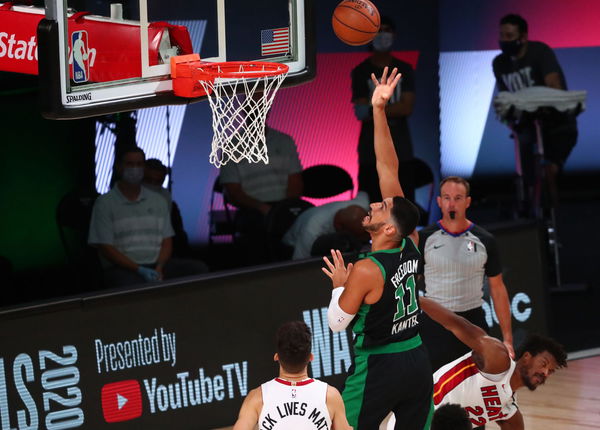 After reaching the Eastern Conference Finals for the third time in four years, the Boston Celtics once again failed to go beyond that. They started the playoffs well but lost to the inspired Heat team. They will be aiming to build a stronger team and bounce back next season.
Heading into the off-season, there are growing concerns that center Enes Kanter will opt-out of his player option. There were rumors about him being traded if he accepts his option. He might be looking to test the market and choose his own destination.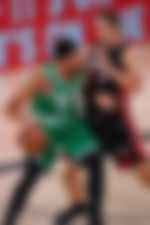 Although Kanter provided good scoring off the bench, he was always a defensive liability. During the series against the Heat, Kanter and the other Celtics bigs allowed Bam Adebayo to run riot. He averaged 21.8 points and 11 rebounds per game against them while shooting 60% from the field. No other team allowed him to go beyond 17 points per game.
ADVERTISEMENT
Article continues below this ad
How can the Boston Celtics replace Kanter?
The Celtics already have a natural replacement for Kanter: 22-year-old Robert Williams. Nicknamed 'Timelord', Williams has had limited opportunities due to Kanter. In his sophomore season, he averaged just over 13 minutes per game. Giving Williams more minutes would be good, but the Celtics still need some help in the big man department.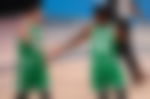 Veterans Aron Baynes, Paul Millsap, and Serge Ibaka are some of the big men they could target in the upcoming free agency. Baynes is the most realistic option for them.
ADVERTISEMENT
Article continues below this ad
After playing for the Celtics for two seasons, Baynes was traded to the Suns along with Ty Jerome for a first-round pick. Now he could be on his way back to Boston after having a career-high season where he averaged 11.5 points, 5.6 rebounds, and shot 35% from downtown. He will be in demand, and so the Celtics will have to beat the other teams chasing his signature.
ADVERTISEMENT
Article continues below this ad
Ibaka and Millsap are better players, but they might seek bigger contracts, while Baynes could agree to a cheaper deal potentially. Interior defense was their glaring weakness this season, and if the Celtics can improve on that front, they will be a force to reckon in the East.