'I Told My Agent': LeBron James Reveals Why He Isn't Surprised By Lakers' Talen Horton-Tucker
Published 12/16/2020, 5:15 AM EST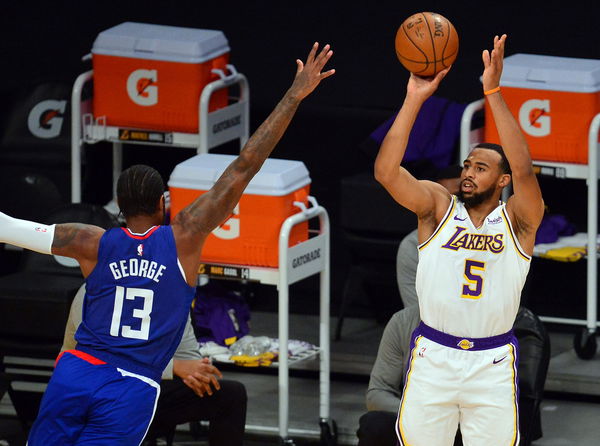 ---
---
The Los Angeles Lakers beat the LA Clippers in back-to-back preseason games despite their stars not playing. LeBron James and Anthony Davis sat out for both games, while youngster Talen Horton-Tucker stole the show.
ADVERTISEMENT
Article continues below this ad
He put up 52 points in two games, while also grabbing 19 rebounds as a wing player. He has been solid on both ends, and this has left LeBron impressed.
"We can see what he's capable of doing," LeBron said. "I saw it about 3-4 years ago; I was watching a high school basketball game, and I happened to catch him playing, I told my agent… you need to take a look at this kid… he's super talented… You can see what he's doing now. He's going to continue to get better and better. He'll get an opportunity to practice against us veterans. He's going to continue to improve, and he's going to do some really good things in this league for a long time."
ADVERTISEMENT
Article continues below this ad
Can Horton-Tucker keep this form going for the Lakers in the regular season?
After being drafted with the 46th overall pick last season, Tucker entered the league with little expectation. It is not surprising since very few second-round picks end up doing well. He featured in just six regular-season games, averaging 13.5 minutes, and played two playoff games, averaging 8.5 minutes.
There were a few encouraging signs, but nothing stood out. Tucker had a decent G-League campaign, averaging 18.1 points per game, but his shooting splits were unimpressive, as he shot just 42% from the field and 30% from three.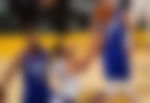 Coming into this season, Tucker had to step up since this is the last year on his rookie deal. If he wants an extension, he would have to prove he is worth one. So he has started off on the right track and is making the best out of the opportunity given to him, regardless of it being preseason or not.
ADVERTISEMENT
Article continues below this ad
The biggest challenge for him would be to continue this form in the regular season and earn his way into the rotation. The Lakers already have a good rotation, so he will have to do his best to break-in.
ADVERTISEMENT
Article continues below this ad