'I'm Good': Lakers' LeBron James Plays Down Injury Rumors Ahead of Suns Playoff Series
Published 05/20/2021, 11:20 PM EDT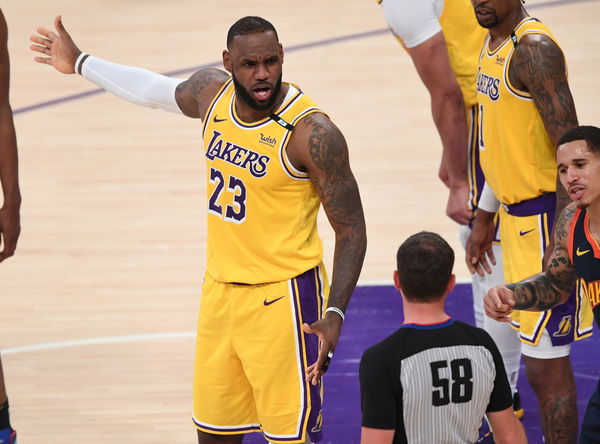 ---
---
The Los Angeles Lakers won their NBA play-in tournament battle against the Golden State Warriors last night. It was a thriller that went down to the final buzzer. Despite a shaky start, they prevailed following an excellent rescue job from LeBron James.
ADVERTISEMENT
Article continues below this ad
It was only his fifth game since he returned from injury, and many were convinced he still wasn't at 100%. NBA analyst Marc Spears had an interesting comment about the situation. He said, "We need to be concerned about LeBron James. He was supposed to be the PG. I'm hearing he's playing on one leg"
However, LeBron played down these injury rumors. He said the only concern was the eye poke from Draymond Green during the game. He said, "I'm good. I told you guys I was good. That's the most minutes I've played in a long time and I didn't feel anything on that play. Draymond's finger or thumb or whatever went directly into my eye, and that's why I was down."
ADVERTISEMENT
Article continues below this ad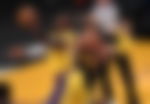 Are injuries finally slowing down LeBron James?
The main reason for LeBron's consistent 18-year career is his ability to stay injury free. He had a few minor injuries, but he was still available throughout the season almost every time.
He faced some problems during the 2018-19 season but bounced back by leading his team to the title in the following season. However, this season, he faced the worst injury problems he has ever had in his career.
LeBron missed over 20 games, and when he returned, there were doubts if he was fully healthy. Even if he isn't, he had no option but to return since the playoffs were about to start.
He knows how dependant the Lakers are on him, especially in the playoffs, so he is putting his team in front and risking further injury. That could be why he refuses to admit it because he wants fans to still be hopeful and not lose heart.
ADVERTISEMENT
Article continues below this ad
Despite not looking fully healthy, LeBron improved from a disastrous start against the Warriors and ended up hitting the game winner. He also had a triple double and an all-round performance which was crucial for the Lakers in the play-in game.
They now play the Suns in the first round of the playoffs, and once again, the Lakers will be heavily relying on him to lead them to victory.
ADVERTISEMENT
Article continues below this ad