Is New York Knicks' RJ Barrett the Most Underrated Player in the League?
Published 04/08/2021, 4:30 PM EDT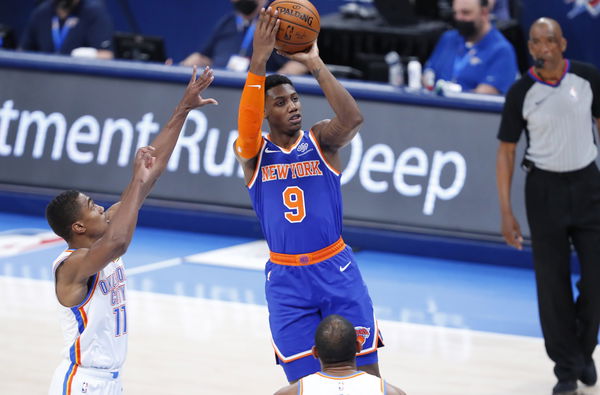 ---
---
The 2019-20 NBA season focused on just the top two rookies: Zion Williamson and Ja Morant. Despite being the third pick, New York Knicks' RJ Barrett barely received attention. He was arguably snubbed from the All-Rookie teams as well.
ADVERTISEMENT
Article continues below this ad
But that didn't deter Barrett, who continued to work hard on his game. Despite the constant improvement he has shown, the lack of recognition for the Canadian is baffling at times. He was recently snubbed from ESPN's Top 25 players under 25 list, too. That prompted a lot of Knicks fans to talk about how he is an underrated player.
Just last night, Barrett played a crucial role in keeping the Knicks in the game against the Celtics. If he had got some more support from his teammates, they would have got the win. The Canadian played his part, scoring 29 points while shooting an incredible 10-14 from the field and a perfect 6-6 from three. And he did that while having one of the best wing defenders, Jaylen Brown, guarding him.
ADVERTISEMENT
Article continues below this ad
With that, he equaled the franchise record for most threes without a miss. But despite this, he barely received any attention. The lack of attention is just disrespectful to a player of his caliber.
Can Barrett prove his critics wrong by lifting the New York Knicks?
In the 2020-21 season so far, Barrett is averaging 17.5 points, 5.9 rebounds, and three assists per game. He is doing that while shooting 45% from the field and 38% from three. Each of these numbers have had a considerable increase from last season. The most remarkable of those is his three-point %, which was just 18% after the first 12 games. So it has been an impressive comeback since then.
ADVERTISEMENT
Article continues below this ad
He isn't very exciting, isn't loud, but is just a pure hard worker, who is doing his best to help the team. He is easily one of the most, if not the most, underrated players in the league. Julius Randle has easily been the Knicks' most important player this season, but they wouldn't have been where they are if not for Barrett.
With just 20 games left to go, the Knicks need Barrett to continue firing. They are just holding on to the eighth seed now and are in danger of dropping. With Randle struggling, Barrett will take the onus to lead the Knicks and help them return to being a feared team in the East once again.
ADVERTISEMENT
Article continues below this ad