"It Was A Little Different": Derek Fisher Opens Up on Former Celtics Rival Rajon Rondo's Move to Lakers
Published 11/12/2020, 1:00 AM EST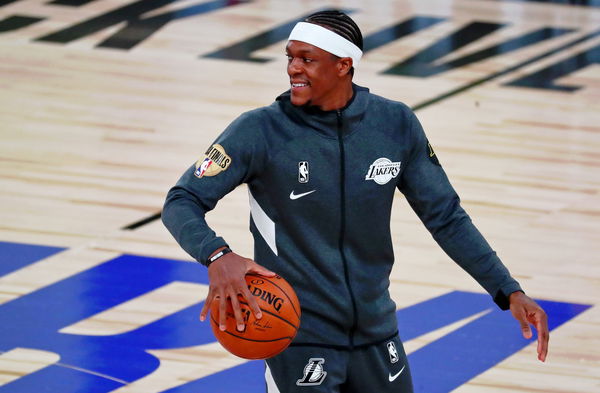 ---
---
When the Los Angeles Lakers won the 2020 NBA title, Rajon Rondo entered history books. He became only the second player ever to win a title with both the Lakers and Celtics. He had a solid campaign and was a major contributor to the Lakers' win.
ADVERTISEMENT
Article continues below this ad
The Celtics and the Lakers were fierce rivals a decade ago. So many fans, including former Lakers star Derek Fisher, felt it was weird to see Rondo's transition from Green to Gold.
ADVERTISEMENT
Article continues below this ad
"It was a little different, but I think we've gotten used to seeing a little more player movement," Fisher said. "Obviously, LeBron coming from different places and now being a Laker player. It's a little different, but I can appreciate the player and the way he goes about his business, and I can leave the green jersey to the side for now"
After leaving Boston in 2015, Rondo played for four teams before joining LA in 2018 along with LeBron James. The Lakers needed capable veterans alongside LeBron, and Rondo fit the bill.
Derek Fisher says he's happy for Rajon Rondo
Similar to Rondo, Fisher was always an underrated player. So when he saw Rondo get the recognition he deserves after the Lakers title win, it made Fisher happy.
He said, "I think it was a great moment for a player like Rondo. Everybody for a long time has believed that you have to have these amazing stats to be considered a championship-caliber player.
"I know from my experience, you can make positive contributions to a team without being a guy that jumps off the stat sheet, and I think Rondo who on a lot of nights has good stats, I just think this championship continues to reinforce the value that he brings to his teams because of his I.Q., unselfishness and competitive spirit."
After an underwhelming regular season, Playoff Rondo came to play during the postseason. His passing, shooting, defense, and most importantly his hustle, were crucial for the Lakers.
ADVERTISEMENT
Article continues below this ad
But after a successful season, he may be on his way out now. He will decline his player option for the upcoming season and will enter Free Agency. The Lakers can still bring him back, and they should not let him walk away.
ADVERTISEMENT
Article continues below this ad