'It's Over Guys': Giannis Antetokounmpo Reacts to Being Picked by LeBron James for 2021 NBA All-Star Game
Published 03/05/2021, 1:51 AM EST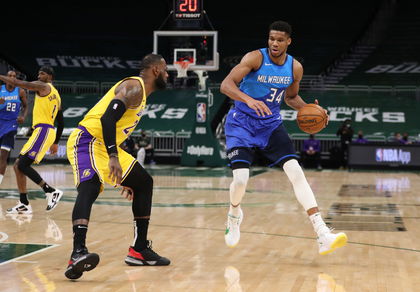 ---
---
The NBA's All-Star festivities began last night, with LeBron James and Kevin Durant drafting their teams. For the first time, LeBron will team up with Giannis Antetokounmpo and the Greek Freak is hyped for the union.
ADVERTISEMENT
Article continues below this ad
The Bucks star found out about the teams during a video call with NBA on TNT. He was excited about being picked first by LeBron and had a big smile on his face. "Do I get a hat now? Do I wear a suit now?" he asked jokingly. Later, when he learned about the starting five of Team LeBron, Giannis was stunned for a few seconds. "Yeah, it's over guys," he exclaimed. "That's a good starting five."
ADVERTISEMENT
Article continues below this ad
Starting 5 for Team LeBron 
Guard – Stephen Curry
Guard – Luka Doncic
Forward – LeBron James
Forward – Giannis Antetokounmpo
Center – Nikola Jokic
Those are five MVP candidates all on the same team. It is almost unfair for such a team-up, but over the years, LeBron's team picking skills have proved to be elite.
Can Giannis Antetokounmpo help Team LeBron James to a win?
After being opposing captains for the last two seasons, Giannis and LeBron are now set to team up. They are two of the most athletic players in the league which promises a lot of high-octane action. Last season, Giannis led his team in scoring, so LeBron knows he can get a bucket from him anytime. Along with his scoring, Giannis will also be a force on the glass, which will make them a menace to deal with.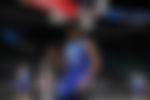 Along with a lot of athleticism, Team LeBron has arguably all the best playmakers in the league in one team, bar James Harden. Curry. Doncic, Jokic, and LeBron are immensely talented passers, and combining them will promise beautiful basketball. They also have Chris Paul and Damian Lillard off the bench, which makes it ridiculous.
ADVERTISEMENT
Article continues below this ad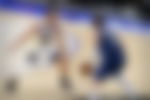 One should expect a lot of lobs, dime-dropping, powerful dunks, and finally, a win as well. Compared to Team Durant, they are a lot stronger on both ends. The absence of Durant due to injury will be the biggest loss for them, and so Team LeBron will be the favorites to come away with the win for the fourth year in a row.
ADVERTISEMENT
Article continues below this ad