Clippers' Paul George Clarifies His Comments after Taking Shots at Former Coach Doc Rivers
Published 12/05/2020, 1:02 AM EST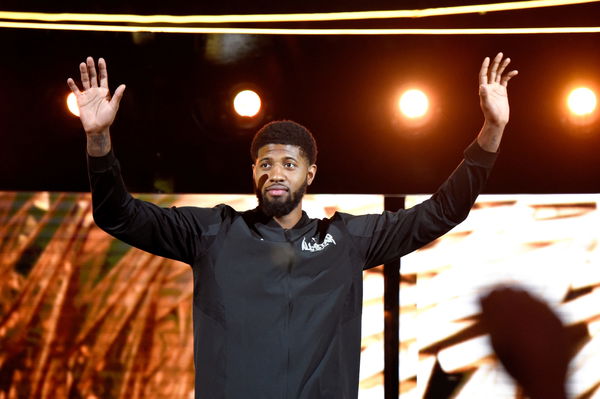 ---
---
The LA Clippers lost another playoff series last season, which brought down the curtains on Doc Rivers' time as the head coach in LA. He had joined them back in 2013 but wasn't able to lead them to a title in all these years. Recently, Clippers star Paul George talked about how Rivers failed to use him correctly last season.
ADVERTISEMENT
Article continues below this ad
George complained about how he was used in a Ray Allen or JJ Redick role. He said he wanted more pick and rolls and post-ups, but it never happened. Now he has clarified and said he didn't mean any disrespect towards his former coach.
"I do want to clear it up because the notion out there is I don't respect Doc and I'm putting the blame on Doc," George said. "I respect Doc, I think Doc is a hell of a motivator and coach. It doesn't mean I agree with everything that we did. But that does not belittle the fact that I respect him. We felt we were the better team. (But) They played harder than us and ultimately got past us."
ADVERTISEMENT
Article continues below this ad
"I wanted to clear the air on that. I respect Doc Rivers and he's a hell of a motivator. The notion that I'm putting the blame on Doc is not the case… I'm the one who blew the 3-1 lead"

– Paul George on the comments on All the Smoke pic.twitter.com/TcX0yw4YaY

— Tomer Azarly (@TomerAzarly) December 4, 2020
Will Paul George flourish under the new coach now?
Although George said he wasn't used right, Kevin O'Connor from The Ringer, proved him wrong. He pointed out that the Clippers season was the most pick and roll action George has got in his career. He went from 25% in OKC, to 33% in LA, in total plays using the pick-and-roll.
While he may have admitted in that recent interview that he is accountable too, Clippers fans will be hoping he can make up for it in the upcoming season.
During the 2019-20 playoffs, George started poorly. In the series against the Mavericks, he shot 35% from the field and 27% from three. He was bailed out by his teammates, as the Clippers won 4-2.
ADVERTISEMENT
Article continues below this ad
In the second round, he started on a better note. In the first six games, he averaged 23 points per game while shooting 42% from three. But in the ultimate game of the season, George went missing again. In Game 7, he went 2/11 from three, including 0/6 from the field in the fourth quarter. That led to the Nuggets completing a humiliating comeback when from being down 3-1.
As they start on a fresh note this season, George has to prove his worth. The Clippers traded their future for him, so he has to show up in the present now. With a new coach at the helm in Ty Lue, George will hope he is 'utilized better' and can bring them wins.
ADVERTISEMENT
Article continues below this ad