'Laugh at the Bulls***': Spurs' DeMar DeRozan Expresses Frustration with Repeated NBA All-Star Snubs
Published 03/05/2021, 10:57 PM EST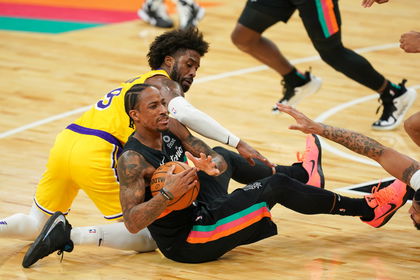 ---
---
Phoenix Suns star Devin Booker wasn't an initial member of the NBA All-Star reserves. However, he replaced Anthony Davis, who will miss out due to injury. But now, Booker himself got injured as well.
ADVERTISEMENT
Article continues below this ad
So, the NBA announced Utah Jazz guard Mike Conley as his replacement as a reserve for Team Kevin Durant. It is the veteran guard's first-ever All-Star appearance.
He becomes the first player to get his maiden All-Star appearance in the 14th season of his career. While fans are happy for Conley, there might have been a few other players who deserved it ahead of him like DeMar DeRozan.
ADVERTISEMENT
Article continues below this ad
DeRozan should have arguably made it in the initial squads. But sadly, the Spurs star didn't get enough votes. After being snubbed the first time, he was overlooked again when they picked Booker.
And now, after facing his third snub, DeRozan is furious with the NBA. He vented via Twitter, where fans were also in agreement with him.
Gets to a point where you just gotta laugh at the bullshit!!

— DeMar DeRozan (@DeMar_DeRozan) March 6, 2021
Did DeMar DeRozan deserve the place ahead of Mike Conley in the NBA All-Star reserves?
Yesterday, DeRozan received an emotional tribute from Drake in his new song. In the song titled 'Lemon Pepper Freestyle,' Drake wrote the line, "And my city love me like DeMar DeRozan."
It is a tribute to DeRozan's legacy with the Toronto Raptors, and the nine years he spent there. And now, just one day later, he is getting disrespected.
Let's compare the two on their 2020-21 season stats. DeRozan leads Conley in points, rebounds, assists, blocks, field goal %, free-throw %, and averages lesser turnovers as well despite having more assists. The only stats Conley leads DeRozan in are steals and 3pt %.
ADVERTISEMENT
Article continues below this ad
Conley is on the #1 seed while DeRozan is on the #7 seed, but Conley is only the third-best player on his team. DeRozan is carrying his team to the #7 seed, a spot no one expected them to be in. He is leading them in both points and assists, showing how he has transformed into a floor general this season.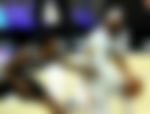 The only logical reasons to pick the Jazz veteran ahead of DeRozan would be emotion and narrative. The 33-year-old has never been part of the All-Star game while DeRozan has four appearances already. This is likely to be Conley's last chance to ever feature, which is arguably why the NBA picked him.
ADVERTISEMENT
Article continues below this ad