LeBron James NBA All-Star Records and Stats
Published 02/12/2021, 12:30 PM EST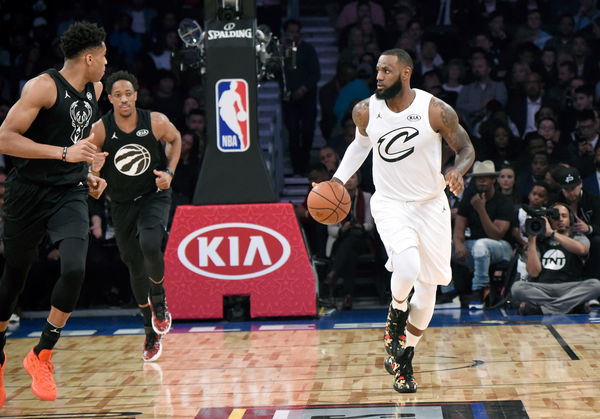 ---
---
Hall of Famer Kareem Abdul-Jabbar holds the record for most All-Star selections with 19. But in a few years, LeBron James is likely to take over. The Los Angeles Lakers star has 16 currently and will get his 17th appearance next month. Let's look at some of his most iconic appearances during the All-Star games.
ADVERTISEMENT
Article continues below this ad
LeBron's first All-Star appearance came in his sophomore season. He averaged an insane stat line of 27 points, seven rebounds, and seven assists as a 20-year-old to become a starter for the Eastern Conference team in the 2005 All-Star game.
He teamed up with Allen Iverson and Shaquille O'Neal to give the East their first win in six years.
ADVERTISEMENT
Article continues below this ad
Next season, LeBron was selected as a starter for the East again. He led his team to the win for the second year in a row, and this time, his efforts got him the 2006 All-Star Game MVP. The 21-year-old James became the youngest player to win the MVP after a phenomenal 29 point game.
He also won the All-Star MVP in 2008 and 2018 and is tied for second all-time in most All-Star MVPs. Kobe Bryant and Bob Pettit are first with four each, but LeBron still has a few years to break that record.
LeBron James: Synonymous with records
After his first All-Star game, LeBron has had a total of 16 consecutive selections. Kobe Bryant currently holds that record with 18 selections. But in a couple of years, LeBron is likely to break that too.
James also holds the record for most starts. In each of his 16 All-Star appearances, he has never come off the bench and has always been a starter.
He is also the all-time leading scorer in All-Star games. Both of these records are only going to be extended and could be too tough to surpass.
He is currently averaging 24.1 points, 6.3 rebounds, and 5.9 assists in his 16 appearances. But surprisingly, he has a -20 in his +/- rating over the course of these games.
ADVERTISEMENT
Article continues below this ad
One record that could be tough to break for LeBron is the oldest All-Star, which is held by Dirk Nowitzki. He was 40 when he was selected to be an All-Star in 2019. While there is no doubt LeBron could play till 40 if he wants, but whether he does it is the big question.
So far in the 2021 voting, LeBron is unsurprisingly leading and is in line to make his 17th appearance. If he plays.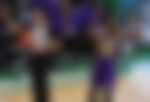 ADVERTISEMENT
Article continues below this ad